107. The Haunting of Thomas Brewster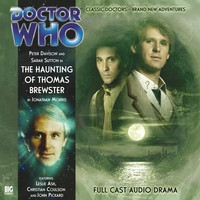 Released April 2008


Prices
| | |
| --- | --- |
| CD | US $19.74 |
| Download | US $12.99 |


Behind the Scenes
CHRONOLOGICAL PLACEMENT:
This story takes place between the television adventures, Time-Flight and Arc of Infinity and after the Big Finish audio adventure, Renaissance of the Daleks.
---
DIRECTOR'S NOTES:
By Barnaby Edwards
Audio directors are often asked what exactly we do: surely it's just a question of assembling the cast in a studio, giving them the script and pressing record? Well, by way of illustration, I thought I'd show you what my duties were on The Haunting of Thomas Brewster:


STORYLINE AND FIRST DRAFT: AUGUST-OCTOBER 2007
Jonathan Morris is asked by Alan Barnes and Nicholas Briggs to suggest a storyline for a Fifth Doctor and Nyssa adventure. He sends in a brief synopsis for a story set in Victorian London. It's at this point that I become involved. Along with Alan and Nick, I read the synopsis and give notes. It's returned to Jonny, who refines the synopsis accordingly. Alan sends the revised storyline to the Doctor Who production office in Cardiff for approval.

The first draft of episode one comes in at the end of September and it's clear we're going to need a good young actor to play the title role. On 26th September I suggest two actors for the role: John Pickard and Sid Mitchell. When the finished script is delivered on 16th October, it becomes apparent that the fresher-voiced John would be perfect for Brewster and the slightly more knowing Sid would be better suited to Pickens. But we also need someone to play the Doctor's new assistant. I ponder this.

Alan, Nick and I give our notes on Draft One and Jonny goes off to write a second draft.

CD COVER: OCTOBER 2007
While Jonny is busy rewriting, I start discussing the cover with our designer Alex Mallinson. We both want something suitably gothic. I send him some picture ideas, including artwork from the films An American Haunting, The Haunted House, The Wolf-Man and The Haunting. Alex reads through Draft One of the script and starts formulating ideas. Alan and I write the blurb for the back cover. Alex sends me a sketch of the pose he wants the actor playing Thomas Brewster to adopt. I file it away for when I'm at the studio.

SECOND DRAFT: NOVEMBER 2007
Jonny's second draft is superb. We have a number of tiny amendments, mainly to do with making some characters more sympathetic and others less so. My main contribution is rather nerdish: the story features Tower Bridge, which I point out wasn't built until 1894. Jonny happily moves it to another London bridge. The retweaked script goes off to Cardiff for approval.

BUDGETING AND SCHEDULING: NOVEMBER 2007
As ever, I won't be able to afford all the actors on both recording days, so I need to work out whom I'll need when. I break the script down into individual scenes and part scenes, so I can arrange which bits I'll be recording on which days. In an ideal world, you'd start with Scene One at the beginning of the first day of recording and work through to the final scene at the close of the second day. Sadly, that's rarely possible on a tight budget, so you have to be more inventive in your scheduling.

The Haunting of Thomas Brewster is without doubt the most technically complex script I've yet directed. Any single scene may need to be recorded up to six times (not counting retakes):

Main action:

Doctor, Nyssa, Brewster, Lilian and Meg, say.

Narration:

Brewster narrating what's happening.

Ghost:

an ethereal voice speaking inside the head of one of the characters.

Flashback:

a scene from the past we only see in flashback within this scene.

Doubling up:

one of the actors playing two roles in the same scene, meaning we have to record the whole scene twice (for example,

Leslie Ash

playing both Lilian and Meg).

Background voices:

street sellers, hawkers and so on.

Working all this out and fitting it into a two-day recording schedule takes me nearly two weeks.

CASTING: NOVEMBER-DECEMBER 2007
Having worked out which characters I need on which day(s), I prepare a shortlist of actors I'd like to play each part (perhaps ten actors per role). Peter, Sarah and the studio have been booked for 13th and 14th December, so the rest of the cast will have to be available for one or other or both of those days. Then begins the lengthy process of phoning agents, making offers, sending out scripts, negotiating fees and so on. I start casting on 26th November, sending Jonny, Alan, Nick and David Richardson regular updates on my progress.

The first actor to confirm is Christian Coulson (Tom Riddle from Harry Potter and the Chamber of Secrets) as the Doctor's new assistant, Robert McIntosh. I've stayed in touch with Christian since I cast him in The Bride of Peladon. He's such a talented actor and I knew I wanted to work with him again, so this is a great start. Next to confirm is John Pickard (from 2point4children and Hollyoaks) as Thomas Brewster - and the rest fall into place after that until finally the whole thing is cast.

RECORDING: 13-14 DECEMBER 2007
We record in our usual studios from 10am until 6pm, with a break for lunch during which I have to take all the publicity photographs of the actors (these pictures will be used on the cover and in the booklet of the CD, as well as being sent to Doctor Who Magazine and other periodicals). The cast are uniformly excellent and a good time is had by all. Jonathan Morris comes in to hear what we're doing with the script and is able to offer some useful pointers to the actors as to the meaning of words like "kinchin" and "libbege".

CD BOOKLET: JANUARY 2008
Alex Mallinson's superb cover comes in, although we have to replace his moody shot of Tower Bridge with another, more period bridge. My fault entirely: I forgot to mention my historical nicety to him! I write my director's notes for the interior of the booklet and send David Richardson a selection of photographs, together with a cast list. I'm amazed at how many roles Trevor Cooper plays - we must get him again.

POST PRODUCTION: JANUARY-APRIL 2008
Sound designer Simon Robinson and I discuss the feel of the music. I suggest Saint-Saens's Carnival of the Animals, Mussorgsky's Pictures At An Exhibition, Stravinsky's Isle of the Dead, the soundtrack to The Name of the Rose, Philip Glass's music for Dracula and some of John Harle's pieces for A History of Britain. I don't want Simon to copy any of these works, but they're useful as a sort of musical shorthand for the atmosphere I'd like to establish for the story. This is the third story I've done with Simon and I absolutely adore his music, so I'm already excited thinking about what he'll come up with.

On 14th January, Simon sends me the dialogue edit for my approval. This is an assemblage of all the correct takes in the correct order and will be the first time I can listen for real to what I had hitherto only heard in my head. Usually this sounds a bit disappointing because there aren't any effects or music and the voices all sound like they're in a studio booth rather than in a railway tunnel or on a riverbank or wherever. However, this time I'm pleasantly surprised: the story comes across well and the performances are wonderful (Barry McCarthy's Creek is a particular joy). I type up some sound design notes, decide to use a handful of alternative takes on certain lines, make some trims and send it back to Simon to have the effects put on. We talk a lot about pitch bending some of the characters: Leslie Ash's two aunts, Lilian and Meg, are tweaked up and down respectively to make them sound more distinct from each other; Creek is pitched up a teensy bit as well.

On 10th February, Simon starts sending me a version with the sound effects on it. He's done the most spectacular job. Over the next three weeks we tweak and adjust and refine the effects edit. We're in relatively good shape before I have to go away for the whole of March to work on something or other. While I'm away, Simon sets about composing the musical score and e-mails me each episode as it comes out. Simon's music gives the story a wonderful sense of drama and emotional depth and my only note to him is: more!

SIGN OFF: 28 MARCH 2008
Happy with the finished result, I sign off on the project. Nick Briggs wants us to tweak a couple of the TARDIS effects, which takes Simon a few more days. Once that's completed, Simon does the CD mastering and sends the discs off to our duplication facility. That's that. The Haunting of Thomas Brewster has kept me - and many other people - busy for eight months. I hope you enjoy it.