The Legacy of Time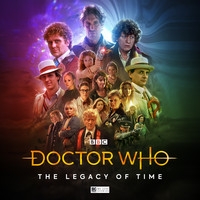 Out in July
Prices
Pre-order CD
US $59.27
Pre-order Digital
US $40.00

Web Special Price!


Synopsis
An epic six story set celebrating 20 years of Doctor Who at Big Finish!
1. Lies in Ruins by James Goss
2. The Split Infinitive by John Dorney
3. The Sacrifice of Jo Grant by Guy Adams
4. Relative Time by Matt Fitton
5. The Avenues of Possibility by Jonathan Morris
6. Collision Course by Guy Adams
An eight-disc CD set, with a limited edition pressing of just 4,000 copies.
More details to follow
Written By: James Goss, John Dorney, Guy Adams, Matt Fitton, Jonny Morris
Directed By: Ken Bentley
Cast
Tom Baker (The Doctor), Peter Davison (The Doctor), Colin Baker (The Doctor), Sylvester McCoy (The Doctor), Paul McGann (The Doctor), Tim Treloar (The Doctor), Lalla Ward (Romana), Louise Jameson (Leela), Alex Kingston (River Song), Georgia Tennant (Jenny), John Heffernan (The Nine), Lisa Bowerman (Bernice Summerfield), Jemma Redgrave (Kate Stewart), Ingrid Oliver (Osgood), Katy Manning (Jo Grant), Simon Williams (Group Captain Gilmore), Pamela Salem (Rachel Jensen), Karen Gledhill (Allison Williams), Hugh Ross (Sir Toby Kinsella), Sophie Aldred (Ace), India Fisher (Charlotte Pollard), Anna Hope (DI Patricia Menzies)
More cast details to follow
Producer David Richardson
Script Editors Guy Adams, Matt Fitton
Executive Producers Jason Haigh-Ellery and Nicholas Briggs