6.11. The Man Who Wasn't There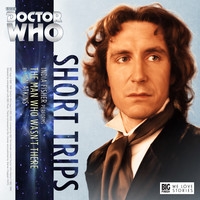 Released November 2016


Prices
Download
US $2.99

Web Special Price!


Synopsis
"I must admit I didn't always pay much mind to the 'Short Trips' range. I used to be a bit of a 'full cast' snob, so these stories just didn't capture my attention, but very recently that has changed. The range has evolved into some of BF's most essential listens," We Are Cult
Another strong entry in to the Short Trips canon, a story that will stay with the listener long after the end credits have rolled and a story that demands multiple listens to appreciate the subtlety of the story telling - a pioneering 9/10," - Planet Mondas
"This latest entry in Big Finish's Short Trips series is one of those stories that take forty minutes to listen to, but days to stop chewing over," - Mass Movement Magazine
"The story itself is only a brisk forty minutes long, but is packed with great moments. The Man Who Wasn't There comes highly recommended," Doctor Who News.net
Doctor Who: Short Trips Monthly is a series of new short stories read by an original cast member.
Release #23 is an Eighth Doctor and Charley Pollard story.
Charley Pollard's innocent request to meet a historical hero seems the easiest thing for a friend with a time and space machine to make happen. But as Charley and the Doctor seek out the Victorian explorer, they uncover a sinister scheme to unravel Earth's future by affecting its past. But where in its history was the deed done? And is it already too late to put right?
Producer Michael Stevens
Script Editor Jacqueline Rayner
Executive Producers Jason Haigh-Ellery and Nicholas Briggs
Written By: Ian Atkins
Directed By: Lisa Bowerman
Cast
India Fisher (Narrator)