3. The Omega Factor Series 03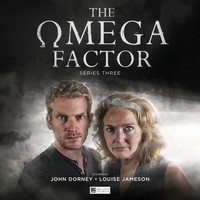 Released March


Prices
CD
US $35.37
Download
US $20.00

Web Special Price!


Synopsis
9/10 "One of Big Finish's best series returns… As unsettling as ever, it's good to have The Omega Factor back." SciFi Bulletin
"Series three is another brilliant inclusion to 'The Omega Factor's' mythos. It is nice that this set is more concerned with dealing with the lives and hearts of our characters more than just throwing them around from one supernatural occurrence to another. All the stories are strong entries and deserve to be listened to" Blogtor Who
This title was released in March 2018. It will be exclusively available to buy from the BF website until April 30th 2018, and on general sale after this date.
After a traumatic confrontation with agents of Omega, Anne and Adam continue their work, investigating strange and supernatural events that defy rational explanation.
But change is coming - secrets will be unearthed and dark powers will rise.
Department 7 will never be the same again.
3.1 Under Glass by Roy Gill
Adam is moving on with his life, but a new relationship tests him in unexpected ways. Anne's dealings with a gallery lead her to a macabre exhibit and its owner's even more macabre fate. Meanwhile, Morag tries desperately to send a warning...
Ambition has a price, and what is trapped will not stay trapped forever...
3.2 Let Us Play by Natasha Gerson
Anne is called by an old acquaintance at Glasgow University, concerned about student welfare. An online developer is employing young people to work on new apps, but their screen-time is having disturbing side-effects.
Soon, Adam is caught in a deadly and addictive game. One where the unwary player has much more to lose than a life…
3.3 Phantom Pregnancy by Louise Jameson
Doyle presents Anne with a psychic prodigy and takes a special interest in her progress. But Adhara is a vulnerable young woman, far from home, and Adam has concerns over Department 7's duty of care.
As Adhara's condition becomes apparent, Adam's health declines. Only Morag knows the true connection - can she reach out and save her friend?
3.4 Drawn to the Dark by Phil Mulryne
Something is buried under Edinburgh's streets. A dangerous legacy, centuries old. Anne tries to protect the innocents, while Morag and Adam sense a darkness, long-imprisoned, on the verge of release. But they are not the only ones to feel it.
Drexel has returned, and he plans to rise up more powerful than ever before...
Written By: Roy Gill, Natasha Gerson, Louise Jameson, Phil Mulryne
Directed By: Ken Bentley
Cast
Louise Jameson (Dr Anne Reynolds), John Dorney (Adam Dean), Natasha Gerson (Morag), Alan Cox (James Doyle), Lucy Goldie (Claire McTeal), Roberta Taylor (Olivia Kirkland), Leighton Pugh (John Gardener), Orion Ben (Adhara Rahul / Nurse), Jamie Newall (Professor Peter Shand), Miranda Keeling (Lucy Williams), Gunnar Cauthery (Edward Milton), Elizabeth Payne (Grace Roberts), Ben Porter (Professor Stephen Wright). Other parts played by members of the cast.
Producer David Richardson
Script Editor Matt Fitton
Executive Producers Jason Haigh-Ellery and Nicholas Briggs