1. The Paternoster Gang: Heritage 1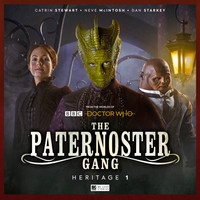 Out in June
Prices
Pre-order CD
US $33.05
Pre-order Digital
US $20.00

Web Special Price!


Synopsis
1.1 The Cars That Ate London by Jonathan Morris
1.2 A Photograph to Remember by Roy Gill
1.3 The Ghosts of Greenwich by Paul Morris
More story details to follow
Written By: Jonathan Morris, Roy Gill, Paul Morris
Directed By: Ken Bentley
Cast
Neve McIntosh (Madam Vastra), Catrin Stewart (Jenny Flint), Dan Starkey (Strax).
More cast details to follow.
Producer David Richardson
Script Editor Matt Fitton
Executive Producers Jason Haigh-Ellery and Nicholas Briggs