9.01. The Revisionists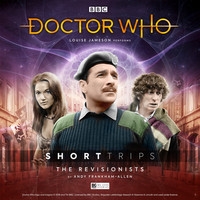 Released January



Synopsis
Doctor Who: Short Trips Monthly is a series of new short stories read by an original cast member.
Guests at the Hôtel des Rois are being haunted by ancestors that never existed. The Brigadier was only in Geneva to finalise his retirement, but how could he resist? Investigating, the Brigadier quickly finds something unusual. A warrior in leathers. A warrior called Leela…
History is about to catch up with both of them. History that neither of them thinks is real.
Producer Alfie Shaw
Script Editor Alfie Shaw
Creative Director for the Haisman Estate Andy Frankham-Allen
Executive Producers Jason Haigh-Ellery and Nicholas Briggs
Brigadier Alistair Lethbridge-Stewart © Haisman & Lincoln and used under licence With thanks to Hannah Haisman and Candy Jar
Written By: Andy Frankham-Allen
Directed By: Lisa Bowerman
Cast
Louise Jameson (Narrator)