6. UNIT - Cyber-Reality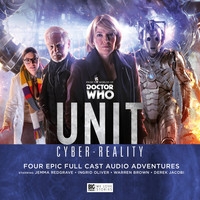 Released May


Prices
CD
US $30.48
Download
US $20.00

Web Special Price!


Synopsis
This title was released in May 2018. It will be exclusively available to buy from the BF website until July 31st 2018, and on general sale after this date.
"UNIT: Cyber-Reality is another strong entry in the UNIT series. It features a great mix of build-up, atmosphere and action. It's also great to hear such an incredibly fresh take on an old enemy. Another highly recommended listen from Big Finish." Doctor Who Watch
9/10 "This is a great example of the work this version of UNIT consistently comes up with." Indie Mac User
"The folks at Big Finish hit us with another brilliant adventure featuring fan favorites Kate Stewart and Osgood as they take on two threatening foes and wind up making an unexpected ally along the way." Sci Fi Pulse
"Cyber Reality is quite possibly the best entry in the Big Finish's UNIT range… After this volume, who knows where the UNIT team will go from here." Starburst
The Auctioneers. A secret global network, collecting and exploiting alien technology for maximum profit. After they threaten UNIT, the consequences are grave. Kate Stewart has vowed to take them down.
But another menace is close. The Cybermen are coming, and UNIT's only hope could be its greatest enemy. The Master.

6.1 Game Theory by Matt Fitton
Sam Bishop is missing. Lost at sea, imprisoned with a valuable hostage, UNIT's troubleshooter will need all his skills to survive. To save their comrade, Kate Stewart and Osgood are offered a deadly challenge. But this game might be impossible to win…
6.2 Telepresence by Guy Adams
Testing salvaged equipment, Osgood leads Colonel Shindi and Josh Carter on a strange expedition into uncharted territory. A virtual world. When the team is attacked, Kate tries to assist. But it seems the technology itself is doing all it can to keep her apart from her people.
6.3 Code Silver by Guy Adams
The Cybermen are coming. Across the barriers between universes, conquering all before them. Conquering and converting.
As her troops fight a relentless enemy, Kate battles to lock down the threat. But how long can UNIT resist?
6.4 Master of Worlds by Matt Fitton
The Cybermen are close to victory. A world under Cybercontrol. A new paradigm to expand the Cyber-race.
Fresh from the Time War, the Master arrives at the hour of Earth's greatest need. But he really doesn't care...
Written By: Matt Fitton, Guy Adams
Directed By: Ken Bentley
Cast
Jemma Redgrave (Kate Stewart), Ingrid Oliver (Osgood), James Joyce (Captain Josh Carter), Ramon Tikaram (Colonel Shindi), Warren Brown (Sam Bishop), Kerry Fox (Julia Hartley-Price), Louis Tamone (Lt Commander Parsons), Derek Jacobi (The War Master) and Nicholas Briggs (The Cybermen). Other parts played by members of the cast.
Producer David Richardson
Script Editor Guy Adams, Matt Fitton
Executive Producers Jason Haigh-Ellery and Nicholas Briggs