10. Uprising (Novel & eBook)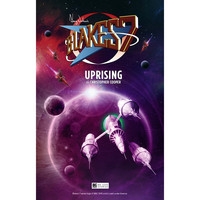 Released January
Prices
| | |
| --- | --- |
| Book | US $22.37 |
| eBook - EPUB | US $12.99 |
| eBook - MOBI | US $12.99 |
Behind the Scenes
Interview with writer Christopher Cooper:
Hi Chris! Tell us a bit about your upcoming book:
"Blake is determined to unite rebel groups across Federation space. He thinks he's found the perfect way to do that... It doesn't take long before that plan unravels. For obvious reasons, there are certain characters, and some very special actors, that sadly I won't get to write for as part of an audio drama. Given that this is the 40th anniversary of the series, and that I'd been given the dream job of writing a Blake's 7 novel where I could feature Blake and Gan, I wanted to take the opportunity to revisit that early period of the show."
Who is your favourite character in the book?
"I'm not sure I have a favourite, but letting Gan take centre stage was important to me, as I always felt that character suffered in terms of development with all those other strong personalities on the Liberator. Having said that, I always enjoy writing Vila, and getting inside the heads of Blake and Avon was fun. I tried to give all of the characters some decent character moments."
How long have you been a fan?
"Way back to "The Way Back." I was 9 years old, and freshly primed for space opera and rebellious deeds by Star Wars. But I was pretty much the only kid at school who seemed to be aware of the series. When I drew a picture of the Liberator one day, my friends all thought I'd forgotten an X-wing fighter's fourth wing. Blake's 7 was always a series with big ideas, and really pushed what the BBC could do with a 50 pence piece and some sticky-backed plastic, so I hope readers will find the spirit of the early series in this book and enjoy the gazillion-dollar budget I spent on the effects. In my head."