You searched for 'the girl who never was'.
Page 1 of 1, showing 1 to 1 of 1 results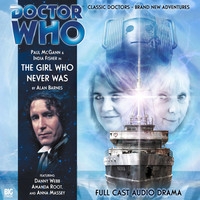 Released December 2007
Doctor Who - Main Range
CD
US $8.37
Download
US $5.00

Web Special Price!

Starring Paul McGann and India Fisher
'Dot dot dot, dash dash dash, dot dot dot. Someone's listening. Somewhere.'
A ghost ship. A girl with no memory, adrift in time. An old ene...
Page 1 of 1, showing 1 to 1 of 1 results