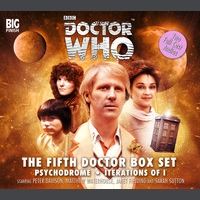 Starring Peter Davison, Janet Fielding, Sarah Sutton and Matthew Waterhouse
This box set contains two stories across four discs, plus a bonus 'behind the scenes' CD. For customers using Download, note that due to filesiz...
Out now!
Other recent releases

Starring Colin Baker, Christopher Benjamin and Trevor Baxter
Out now!

Starring Paul McGann and Ruth Bradley
Out now!