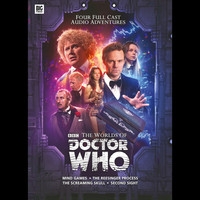 Starring Colin Baker, Louise Jameson, Lalla Ward, Daphne Ashbrook, Trevor Baxter, Christopher Benjamin, Richard Franklin, Karen Gledhill, Pamela Salem, Yee Jee Tso, Simon Williams
An epic adventure uniting the Doctor's friends across time and space, featuring Jago & Litefoot, Counter-Measures, the Vault and Gallifrey!
...
Out now!
Other recent releases

Starring Peter Davison, Janet Fielding, Sarah Sutton and Matthew Waterhouse
Out now!
Starring Colin Baker, Christopher Benjamin and Trevor Baxter
Out now!