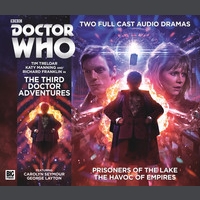 Starring Tim Treloar, Katy Manning, Richard Franklin
This release comes as two new Third Doctor stories and a disc of extras:
Prisoners of the Lake (by Justin Richards)
Out now!
Other recent releases

Starring Colin Baker
Out now!

Starring Colin Baker, Louise Jameson, Lalla Ward, Daphne Ashbrook, Trevor Baxter, Christopher Benjamin, Richard Franklin, Karen Gledhill, Pamela Salem, Yee Jee Tso, Simon Williams
Out now!