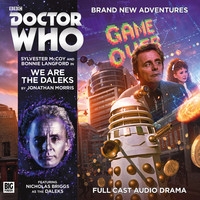 Starring Sylvester McCoy and Bonnie Langford
'We Are the Daleks proves there's nothing more entertaining in the Whoniverse than a couple of age old adversaries going head to head with the f...
Out now!
Other recent releases

Starring Peter Davison, Maureen O'Brien and Peter Purves
Out now!

Starring Colin Baker, Frazer Hines and Wendy Padbury
Out now!