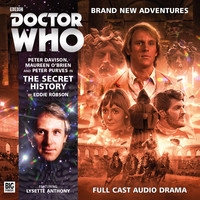 Starring Peter Davison, Maureen O'Brien and Peter Purves
The TARDIS brings the Doctor, Steven and Vicki to the Italian city of Ravenna in the year 540 – besieged by the army of the celebrated Byzantine...
Out now!
Other recent releases

Starring Colin Baker, Frazer Hines and Wendy Padbury
Out now!

Starring Sylvester McCoy and Katy Manning
Out now!