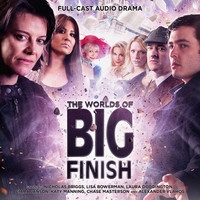 Starring Lisa Bowerman, Nicholas Briggs, Katy Manning, Chase Masterson, Alexander Vlahos
From the streets of Edwardian London to the corridors of a near-infinite library in the distant future, a single book holds the key to the fate ...
Out now!
Other recent releases

Starring Tom Baker, Lalla Ward, John Leeson, Sylvester McCoy
Out now!

Starring Gareth Thomas, Paul Darrow, Michael Keating, Jan Chappell, Sally Knyvette, Brian Croucher, Alistair Lock
Out now!