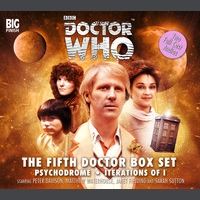 Starring Peter Davison, Janet Fielding, Sarah Sutton and Matthew Waterhouse
This box set contains two stories across four discs, plus a bonus 'behind the scenes' CD.
Psychodrome by Jonathan Morris
Shortly after s...
Out now!
Other recent releases
Starring Paul McGann and Sheridan Smith Guest Starring Tim Brooke-Taylor, Malcolm Stoddard and Steven Pacey with Lynsey Hardwick
Out now!