1. The Omega Factor Series 01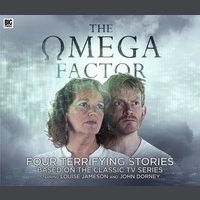 Out in August


Prices
Pre-order CD
US $38.07
Pre-order Digital
US $20.00

Web Special Price!

Synopsis
As stated when this title was first announced, all CD pre-orders will get a copy autographed by star Louise Jameson!
Over thirty years have passed since Tom Crane left Department 7, a top secret organisation that investigates the paranormal.
Anne Reynolds now runs the operation, and for three decades their enigmatic nemesis Omega has been silent.
But that peace is about to be shattered. When Crane's son Adam is drawn into Department 7, the past quickly catches up with Anne and her team…
The first box set comprises the following four episodes:
1: From Beyond by Matt Fitton
2: The Old Gods by Phil Mulryne
3: Legion by Cavan Scott
4: The Hollow Earth by Ken Bentley
Directed By: Ken Bentley
Cast
Louise Jameson (Anne Reynolds), John Dorney (Adam Crane), Natasha Gerson (Morag), Alan Cox, Camilla Power, Terry Molloy, Kate Bracken
Producer David Richardson
Script Editor Matt Fitton
Executive Producers Jason Haigh-Ellery and Nicholas Briggs