4. The Lost Episodes Volume 04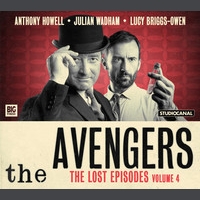 Out in July
Synopsis
Steed and Dr Keel return to action in these four recreations of classic lost episodes:
Kill the King
When the King of an unstable Far Eastern country visits the UK to sign an oil treaty, Steed is assigned to his protection and discovers that assassins lurk around every corner.
A Change of Bait
Carol's landlord has got into a lot of trouble with a shipment of bananas and a crooked businessman. Fortunately Steed and Keel are hot on the heels of insurance fraudsters and might just be able to save him...
Hunt the Man Down
When Frank Preston is released from prison the race is on to find his hidden loot. Can Steed and Keel survive warring gangsters to return the stolen property and rescue a kidnapped Carol?
Dead of Winter
When the frozen body of a Neo-Nazi is discovered at the docks, Steed and Keel get involved with a fascist organisation developing an apocalyptic plan.
Written By: Adapted by John Dorney and Justin Richards
Directed By: Ken Bentley
Cast
Anthony Howell (Dr Keel), Julian Wadham (John Steed), Lucy Briggs-Owen (Carol Wilson)
Producer David Richardson
Executive Producers Jason Haigh-Ellery and Nicholas Briggs