182. Antidote to Oblivion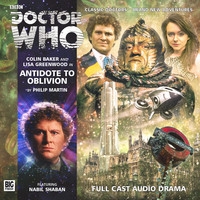 Out in January 2014


Prices
| | |
| --- | --- |
| Pre-order CD | US $23.99 |
| Pre-order Digital | US $12.99 |

Synopsis
Future Britain is bankrupt, its corporate owners facing financial ruin. Fortunately, the Universal Monetary Fund, and its slimy representative Sil, are willing to give its President a multi-billion credit bail-out... but terms and conditions apply, and Sil's proposed austerity measures go far beyond mere benefit cuts.
Responding to a distress call, the Doctor and his companion Flip land in a London whose pacified population has been driven largely underground. But the horrors down there in the dark are as nothing to the horrors that await them at ConCorp HQ, where a young biochemist in Sil's employ is working on a permanent solution to the nation's terminal unprofitability.
Because in the final account, Sil plans to make a killing...
Written By: Philip Martin
Directed By: Nicholas Briggs
Cast
Colin Baker (The Doctor), Lisa Greenwood (Flip Jackson), Nabil Shaban (Sil), Dawn Murphy, David Dobson (Pan/Lord Mav), Mary-Ann Cafferkey (Cerise), Scott Joseph (Boscoe/Voda/Knight Marshal), Mandy Weston (Kristal/Mistress Na/Velena)
SUBSCRIBERS GET MORE AT BIGFINISH.COM...
A twelve or six month subscription to the main range means you pay less.
12 month CD subscription = £140
Lowers the cost from £14.99 to £11.66 per release.
12 month download subscription = £115. For CDs, the subscription
Lowers the cost from £12.99 to £9.58 per release.
If your subscription includes a December release, you get a free subscriber special release (December 2012's subscriber special was Night of the Stormcrow, starring Tom Baker and Louise Jameson). If the subscriber special release has been announced, details of this will appear during the subscriber order process.
You'll be able to download, for free, at least four subscriber special audiobook Doctor Who releases a year.
You'll be able to download a free PDF of the production's script. These will appear in your account when they are made available, typically after the release date.
You'll be able to download extra behind-the-scenes audio material. This will appear in your account when it is made available.
With a 12-release subscription, you will be entitled to choose a free single-disc CD under £10.99 from any of our ranges, and you will be entitled to a discount of £5 off subscriptions to other ranges.