163. Black and White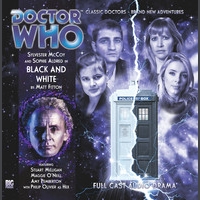 Released August 2012


Prices
| | |
| --- | --- |
| CD | US $23.34 |
| Download | US $12.99 |


Synopsis
The TARDIS arrives in the land of the Danes, where a young warrior seeks to rid the kingdom of Hrothgar from a cruel and terrifying demon. The brave young warrior is Beowulf; the monster is Grendel... or so his name will one day be written. But what's written down in black and white is sometimes very far from the truth – as the Doctor knows, and his companions are about to discover.
Written By: Matt Fitton
Directed By: Ken Bentley
Cast
Sylvester McCoy (The Doctor), Sophie Aldred (Ace), Philip Olivier (Hex), Maggie O'Neill (Lysandra Aristedes), Amy Pemberton (Sally Morgan), Stuart Milligan (Garundel), Michael Rouse (Young Beowulf), Richard Bremmer (Old Beowulf), John Banks (Weohstan), James Hayward (Wiglaf)


SUBSCRIBERS GET MORE AT BIGFINISH.COM...
A twelve or six month subscription to the main range means you pay 30% less.
12 month CD subscription = £130
12 month download subscription = £109.
If your subscription includes a December release up to 2013, you get a free subscriber special release (December 2011's subscriber special was The Five Companions, starring Peter Davison, Sarah Sutton, William Russell, Jean Marsh, Peter Purves and Anneke Wills).
You'll be able to download, for free, at least four subscriber special audiobook Doctor Who releases a year.
You'll be able to download a free PDF of the production's script. These will appear in your account when they are made available, typically after the release date.
You'll be able to download extra behind-the-scenes audio material. This will appear in your account when it is made available.
With a 12-release subscription, you will be entitled to choose a free single-disc CD under £10.99 from any of our ranges, and you will be entitled to a discount of £5 off subscriptions to other ranges.