177. Daleks Among Us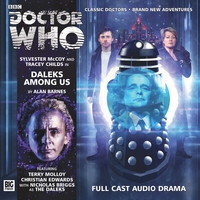 Released September 2013


Prices
| | |
| --- | --- |
| CD | US $23.42 |
| Download | US $12.99 |


Synopsis
AZIMUTH DEPARTMENT OF RE-EDUCATION
REMINDER: TO ALL CITIZENS
There are no Daleks on Azimuth. There have never been Daleks on Azimuth.
Twenty years ago, the Daleks did not invade Azimuth. There was no war. There were no death camps. A man named 'the Doctor' did not help liberate Azimuth.
There are no such things as Daleks. They do not exist. There are no Daleks among us.
UPDATE: TO ALL CITIZENS
A strange blue box has not appeared in Monument Plaza. Off-worlders named 'the Doctor', 'Elizabeth Klein' and 'Will Arrowsmith' are not at large in the city. For your own safety, should you not see any of the above, report at once to the Department of Re-education, Azimuth Central.
NEVER REMEMBER
Written By: Alan Barnes
Directed By: Ken Bentley
Cast
Sylvester McCoy (The Doctor), Tracey Childs (Dr Elizabeth Klein), Christian Edwards (Will Arrowsmith), Terry Molloy (Davros), Jonathan Forbes (Hinterberger), Nicholas Briggs (Ralf/The Daleks), Tim Delap (Falkus), Jessica Brooks (Qaren), Paul Chahidi (Entity)
SUBSCRIBERS GET MORE AT BIGFINISH.COM...
A twelve or six month subscription to the main range means you pay 30% less.
12 month CD subscription = £130
12 month download subscription = £109.
If your subscription includes a December release up to 2013, you get a free subscriber special release (December 2012's subscriber special was Night of the Stormcrow, starring Tom Baker and Louise Jameson).
You'll be able to download, for free, at least four subscriber special audiobook Doctor Who releases a year.
You'll be able to download a free PDF of the production's script. These will appear in your account when they are made available, typically after the release date.
You'll be able to download extra behind-the-scenes audio material. This will appear in your account when it is made available.
With a 12-release subscription, you will be entitled to choose a free single-disc CD under £10.99 from any of our ranges, and you will be entitled to a discount of £5 off subscriptions to other ranges.