172. Eldrad Must Die!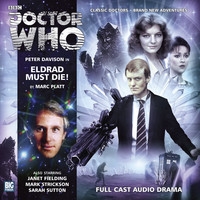 Released April 2013


Prices
| | |
| --- | --- |
| CD | US $23.34 |
| Download | US $12.99 |


Synopsis
"A Doctor, curse his name, threw me down among the dead… but I endure. I am Eldrad… and I must live!
A nuclear icebreaker, foundering in Arctic waters. Seabirds washed up in the fishing resort of Ambermouth, their wings encrusted with crystals. A shining artefact of uncertain provenance, up for sale on an auction site.
All of these things are linked, as the Doctor, Nyssa, Tegan and Turlough are about to discover. Linked to the rebirth of a genocidal tyrant, presumed dead many years ago…
For the sake of the planets Earth and Kastria alike… Eldrad must die!
Written By: Marc Platt
Directed By: Ken Bentley
Cast
Peter Davison (The Doctor), Janet Fielding (Tegan), Mark Strickson (Turlough), Sarah Sutton (Nyssa), Stephen Thorne (Eldrad), Nancy Carroll (Mulkris), Pip Torrens (Charlie Gibbs), Jessica Claire (Kate Sherrin), Brian Protheroe (Bob Gell), Mark Field (Jim)
SUBSCRIBERS GET MORE AT BIGFINISH.COM...
A twelve or six month subscription to the main range means you pay 30% less.
12 month CD subscription = £130
12 month download subscription = £109.
If your subscription includes a December release up to 2013, you get a free subscriber special release (December 2012's subscriber special was Night of the Stormcrow, starring Tom Baker and Louise Jameson).
You'll be able to download, for free, at least four subscriber special audiobook Doctor Who releases a year.
You'll be able to download a free PDF of the production's script. These will appear in your account when they are made available, typically after the release date.
You'll be able to download extra behind-the-scenes audio material. This will appear in your account when it is made available.
With a 12-release subscription, you will be entitled to choose a free single-disc CD under £10.99 from any of our ranges, and you will be entitled to a discount of £5 off subscriptions to other ranges.