125. Paper Cuts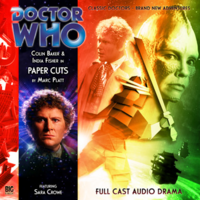 Released September 2009


Prices
| | |
| --- | --- |
| CD | US $23.92 |
| Download | US $12.99 |


Synopsis
The Empire is lost.The Deathless Emperors are dead. The future may never happen.
An urgent summons returns the noble Doctor to a planet he saved from disaster long ago. But Draconia, so elegant and so savage, is in worse turmoil than ever.
Who will be next Emperor? The highest Prince? The lowest peasant? The soldier with no name? Or the Doctor himself – his life at their command? Who controls the army of deadly origami warriors? And is the truth about Charley painted on paper walls in the Emperor's tomb?
History is taking revenge on the Doctor.
BONUS EPISODE! THE COMPANION CHRONICLES: THE THREE COMPANIONS




Coffin-Loaders

by Marc Platt: In a place that looks like a jumbled-up Earth, the Third Doctor and the Brigadier have met a women who looks just like Polly Wright. But she isn't. Meanwhile, in the real world, the real Polly has a new acquaintance – a young man called Thomas Brewster.
Written By: Marc Platt
Directed By: Nicholas Briggs
Cast
Colin Baker (The Doctor), India Fisher (Charley Pollard), Anthony Glennon (Prince/The Red Emperor in His Youth), Sara Crowe (Tombkeeper - Queen Mother), Paul Thornley (Gomori/Steward), John Banks (Soldier), Nicholas Briggs (Prefect/The Deathless Red Emperor), The Cast (Sazou/Deathless Emperors)