2.6. The Mystery of the Missing Hour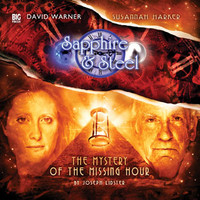 Released June 2007
Prices
CD
US $7.79

Web Special Price!


Synopsis
The Cairo Hilton. December 1926.
An archaeological expedition arrives from England, ready to uncover the secrets of a long-lost Pharaoh's tomb.
But someone on the expedition isn't what they appear to be.
It's therefore lucky that when the first impossible murder takes place, two of the other hotel residents turn out to be quite the detectives…
All irregularities will be handled by the forces controlling each dimension. Transuranic, heavy elements may not be used where there is life. Medium atomic weights are available: Gold, Lead, Copper, Jet, Diamond, Radium, Sapphire, Silver and Steel. Sapphire and Steel have been assigned.
Written By: Joseph Lidster
Directed By: Nigel Fairs
Cast
David Warner (Steel); Susannah Harker (Sapphire); Colin Baker (Narrator); Sarah Douglas (Lady Marjorie); Ian Hallard (Arthur); Cate Debenham Taylor (Jane); Ian Brooker (Cornelius); Nigel Fairs (MC)