169. The Wrong Doctors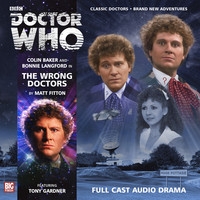 Released January 2013


Prices
CD
US $7.52
Download
US $5.00

Web Special Price!



Synopsis
With Evelyn gone, the Doctor sets course for his destiny... in the form of his first meeting with Miss Melanie Bush, a computer programmer from the village of Pease Pottage, currently busy rehearsing with the local Amateur Dramatic Society – and blissfully unaware that her future is on its way, in his TARDIS.
Make that two TARDISes. Because at that very moment, a slightly younger Doctor is flying into Pease Pottage, too – returning his future companion Melanie Bush to her rightful place and time, after they were flung together during the course of his Time Lord trial.
Time travel is a complicated business – the iguanadon terrorising Pease Pottage being a case in point. But how much more complicated could things possibly become, if the wrong Doctor were to bump into the wrong Mel?
Written By: Matt Fitton
Directed By: Nicholas Briggs
Cast
Colin Baker (The Doctor), Bonnie Langford (Mel), Tony Gardner (Stapleton Petherbridge), James Joyce (Jedediah Thurwell), Patricia Leventon (Mrs Wilberforce), Beth Chalmers (Vaneesh), John Banks (Ksllak)
SUBSCRIBERS GET MORE AT BIGFINISH.COM...
A twelve or six month subscription to the main range means you pay 30% less.
12 month CD subscription = £130
12 month download subscription = £109.
If your subscription includes a December release up to 2013, you get a free subscriber special release (December 2012's subscriber special was Night of the Stormcrow, starring Tom Baker and Louise Jameson).
You'll be able to download, for free, at least four subscriber special audiobook Doctor Who releases a year.
You'll be able to download a free PDF of the production's script. These will appear in your account when they are made available, typically after the release date.
You'll be able to download extra behind-the-scenes audio material. This will appear in your account when it is made available.
With a 12-release subscription, you will be entitled to choose a free single-disc CD under £10.99 from any of our ranges, and you will be entitled to a discount of £5 off subscriptions to other ranges.