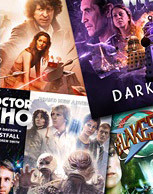 We love stories and we make great full-cast audio drama and audiobooks you can buy on CD and/or download. If you buy a CD from us...
YOU GET IT AS A DOWNLOAD FOR FREE.
Our audio productions are based on much-loved TV series like Doctor Who, Dark Shadows, Blake's 7, and Survivors as well as classic characters such as Sherlock Holmes, The Phantom of the Opera and Dorian Gray, plus original creations such as Graceless and The Adventures of Bernice Summerfield.
Read more