3.1. Dalek Empire 3: The Exterminators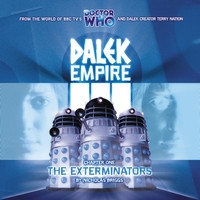 Released May 2004


Prices
CD
US $7.58
Download
US $5.00

Web Special Price!


Synopsis
Click 'LISTEN TO TRAILER' or 'DOWNLOAD TRAILER' to hear a special feature on Dalek Empire 3, featuring cast interviews, including David Tennant.
Twenty years ago, Siy Tarkov set off from the planet Velyshaa, making his way back to the Galactic Union, carrying vital information about a deadly race known as the Daleks. But now, he's lost in deep space...
Meanwhile, the Graxis Wardens have a new recruit. But their ecological paradise is about to be plunged into chaos.
Written By: Nicholas Briggs
Directed By: Nicholas Briggs
Cast
David Tennant (Galanar); William Gaunt (Selestru); Ishia Bennison (Frey Saxton); Steven Elder (Siy Tarkov); Sarah Mowat (Susan Mendes); Laura Rees (Kaymee); Claudia Elmhirst (Amur); Octavia Walters (Japrice); Peter Forbes (Culver); Oliver Hume (Carneill); Dot Smith (Mivas); Greg Donaldson (Telligan); Karen Henson (Saloran); Dannie Carr (Morli); Jeremy James (Sergic/Snubby); Sean Jackson (Seth); Ian Brooker (Mietok); Jane Goddard (Roozell); Philip Wolff (Chauley); Colin McIntyre (Jake); Nicholas Briggs (The Daleks)