For The Love Of StoriesBig Finish produce fantastic full-cast audio dramas for CD and download.
6 April 2022
The award–winning Stranded saga comes to an end and the Eighth Doctor collides with reality in an emotional box set of full–cast audio dramas, released today by Big Finish Productions.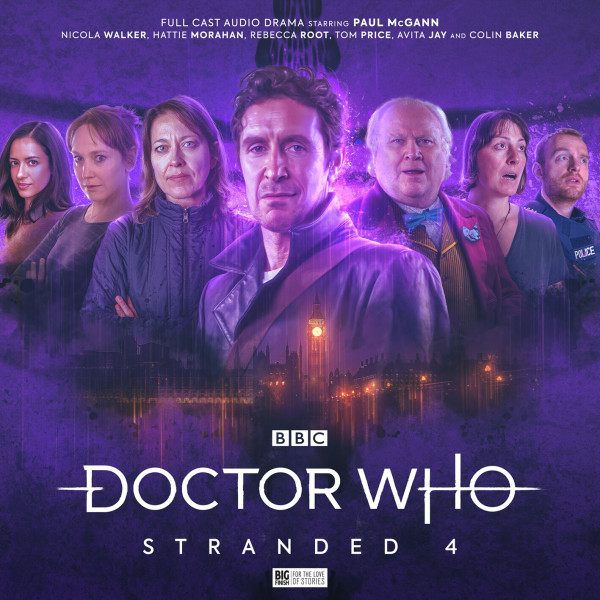 It began two years ago, with the Doctor (Paul McGann) stranded in present–day London and the TARDIS out of action. As he and companions Liv Chenka (Nicola Walker) and Hattie Morahan (Hattie Morahan) settled down to new lives in a house in Baker Street, London, they found that 2020 was anything but predictable.
Now, in these concluding four adventures, the time travellers and their new friends set out to put the fractured future right – and they might just end up back where they started. But, before the crew go their separate ways, they have difficult decisions to make and – in the final episode, Best Year Ever – a new and very real 2020 in lockdown to face.
Doctor Who — The Eighth Doctor Adventures: Stranded 4 is now available to own as a collector's edition CD box set (+ download, for just £24.99) or download only (for just £19.99) exclusively here.
After crashing in 2020 London, the TARDIS crew has found the future of the universe altered and the human race doomed.
As the Doctor tries desperately to unravel the paradox, all roads lead back to Baker Street, and the greatest test of all...
Crossed Lines by Matt Fitton
The Doctor interrupts a pivotal journey for young Robin, while Tania and Helen are caught up in events past and present.
As the timeline dissolves and the Void encroaches, the Doctor's friends ask the Curator for help. But he is not the man he was...
Get Andy by Lisa McMullin
The Doctor resolves to make a difference and save one life in particular.
But someone else is making a beeline for Sergeant Andy Davidson. Mr Bird has something to prove, and he will go to any extreme to do it...
The Keys of Baker Street by Roy Gill
Homing in on the root of the problem, the Doctor attempts a risky solution – and disaster strikes.
Soon, 107 Baker Street is all that's left of reality, as the residents climb the floors to face their destiny.
Best Year Ever by John Dorney
What happens if the world is actually fixed?
There are times when even the Doctor cannot help. And whatever the outcome, Liv and Tania have a decision to make.
Producer David Richardson said: "Little did we know, when we were making the very first Stranded box set, that it would inadvertently become a reflection of our times – that in its release year we would all come to feel stranded. And so, with Best Year Ever, Stranded ends in fiction as it began in the real world, with the Doctor and his friends in lockdown in Baker Street during 2020.
"John Dorney has written a celebration of the human spirit, and also of the power of love and friendship. It's, perhaps, one of the most powerful and at times uplifting hours of Doctor Who audio you will ever hear."
Script editor Matt Fitton added: "Doctor Who is often a way to escape the real world, and for most of this series, that's just what the Doctor and friends did – away from the real 2020, stranded in a very different timeline. But in the end they – and we – had to come back.
"The world in which we were making Stranded was so different, so fundamentally changed from when we began the writing journey in 2019, that it had to be reflected in our final outing. Over the past two years our friends, neighbours, and families have been through so much, but we've faced those challenges together. Best Year Ever shows how we can get through, how there's always hope, even if we lose people dear to us along the way. And even if the Doctor can't actually change the world of 2020, it's still reassuring to have him by our side."
Paul McGann said: "Years from now, Best Year Ever will be a record of how people lived through lockdown. These days are strange and people will still be talking about them in years hence.
"I'm glad we've contributed with a story that covers those days – the weirdness of living through them, the loneliness, and the feeling of missing people. It has the same energy of being locked down that we all felt. I was moved by it and one isn't always moved by the stories one does."
The incredible cast for Stranded 4 also includes Tom Price (as Sgt Andy), Rebecca Root (as Tania Bell), Avita Jay (as Zakia Akhtar) and features Colin Baker's debut as the Curator, as previously reported here.
Doctor Who — The Eighth Doctor Adventures: Stranded 4 is now available to own for just £24.99 (for the collector's edition CD + download) or £19.99 (for the download only), exclusively from the Big Finish website.
Big Finish listeners can save money by buying all four Stranded box sets together in a bundle, for just £88 (on CD + download), or £79 (download only).
All the above prices include the special pre-order discount and are subject to change after general release
Big Finish is currently operating a digital-first release schedule. The mail-out of collector's edition CDs may be delayed due to factors beyond our control, but all purchases of this release unlock a digital copy that can be immediately downloaded or played on the Big Finish app from the release date.