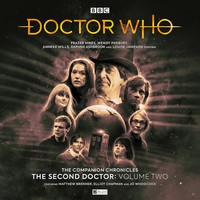 Starring Anneke Wills, Frazer Hines, Wendy Padbury, Louise Jameson
Four new stories from the Second Doctor's era...
1. The Curator's Egg by Julian Richards
Zoltan Clarkson (Eccentric Billionaire, Cybern...
Out now!
Other recent releases

Starring Maureen O'Brien, Peter Purves, Anneke Wills
Out now!

Starring Frazer Hines, Anneke Wills, Deborah Watling, Wendy Padbury, Elliot Chapman
Out now!