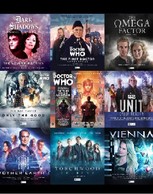 Box Set Offers!
Use the code CLEVER to access this special offer page in order to purchase a wide range of our recent box sets at their pre-order prices!
As we experienced some PayPal issues over the weekend, we've extended this deal for a further 24 hours, and these deals now expire 23:59 (UK time) on 21/09/2018, so don't miss out!
Titles in the offer include Star Cops - Mother Earth Part 1, The Omega Factor Series 3, The War Master - Only the Good, Torchwood - Believe, Doctor Who - The Companion Chronicles: The Second Doctor Volume 2 and The Diary of River Song Series 3.
For more information, see the news story here.
Read more