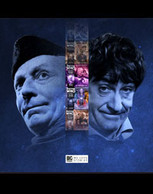 Doctor Who - First and Second Doctor Bargains!
Until 23:59 (UK time) on 26th July enter the code TARDIS12 at
www.bigfinish.com/offers/v/earlyadventures
to access discounted prices on a number of Big Finish Doctor Who adventures featuring the First and Second Doctors, including Early Adventures, Lost Stories, Companion Chronicles and Short Trips!
For much more information, check out the original news story here.
And don't forget to look at our Big Finish Bargains range, containing sets, releases and special bundles currently at reduced prices better than anywhere else!
Read more