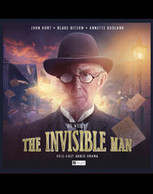 H.G. Wells at Big Finish in 2017!
Announced this month: six full-cast adaptations of the works of British Sci-Fi legend H.G. Wells.
Starting with January's The Invisible Man starring John Hurt, there's also The First Men in the Moon, The Shape of Things to Come, The Island of Dr Moreau, The Time Machine, etc..
For full details see the original news story here including money-saving bundles, or check out the titles in our Big Finish Classics range.
Read more