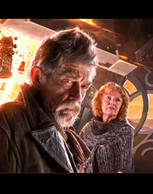 Out Now - The Final War Doctor Release!
In the chaos of the Time War, the War Doctor (John Hurt) meets an old, old friend. But will Leela (Louise Jameson) recognise him after what he's become? And will he and Cardinal Ollistra (Jacqueline Pearce) escape when they're trapped, with Daleks closing in?
Now released on Download and CD, Doctor Who - The War Doctor: Casualties of War is available at the frozen pre-release price of £20 on both formats.
And for those wanting to listen "on the go", check out here for links to Android and Apple stores to get the free Big Finish download/playback app today!
Read more