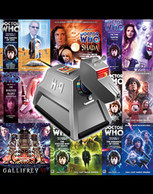 K9 at 00101000!
All this weekend, we've special prices on a number of our titles to celebrate the upcoming 40th anniversary of everyone's favourite tin dog, K9. Prices start with just 99p for the download of Zagreus and include stories such as the Tom Baker / Lalla Ward starring Novel Adaptations.
Simply visit the special link here, use the password of "marius". These offers all end at 23:59 on Monday 25th September.
For more information, check out Friday's news story here.
Read more