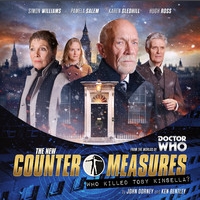 Starring Simon Williams, Pamela Salem, Karen Gledhill, Hugh Ross
This title was released in July 2016. It will be exclusively available to buy from the BF website until August 31st 2016, and on general sale af...
Out now!
Other recent releases

Starring Pamela Salem, Simon Williams, Karen Gledhill, Hugh Ross
Out now!

Starring Colin Baker, Louise Jameson, Lalla Ward, Daphne Ashbrook, Trevor Baxter, Christopher Benjamin, Richard Franklin, Karen Gledhill, Pamela Salem, Yee Jee Tso, Simon Williams
Out now!