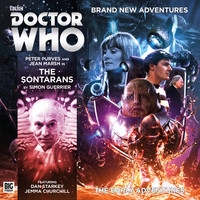 Starring Peter Purves, Jean Marsh
The TARDIS arrives on a moon-sized asteroid orbiting two gas giants. With an amazing view, it's a chance for the Doctor, Steven and Sara to unwi...
Out now!
Other recent releases
Starring Maureen O'Brien, Peter Purves
Out now!

Starring William Russell, Maureen O'Brien, Jemma Powell, James Joyce
Out now!