We love StoriesBig Finish produce great full-cast audio drama for CD and download, featuring many popular television fantasy series.
24 August 2016
Have you seen the new details on the Big Finish website covering Doctor Who releases coming later in the year?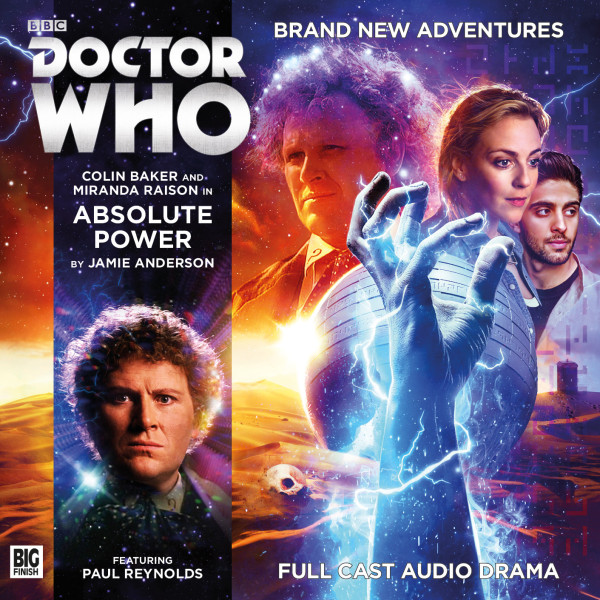 In January's Doctor Who - The Beast of Kravenos, the Fourth Doctor (Tom Baker) visits some old friends when he takes Romana (Lalla Ward) to meet Jago & Litefoot (Christopher Benjamin and Trevor Baxter), kicking off the sixth series of Doctor Who - The Fourth Doctor Adventures as he does so:
The Doctor and Romana return to Victorian London for a reunion with Jago & Litefoot. While K9 becomes the latest star attraction of the New Regency Theatre, the travellers are embroiled in robberies committed by a mysterious thief known only as 'The Knave'.
The cover for Doctor Who - The Beast of Kravenos by designer Anthony Lamb is now online. The story can be pre-ordered right now for £8.99 on Download, and £10.99 on CD (unlocking a download for instant access). The entire series can be bought via subscription for £65 on Download and £75 for CD with each title available on release digitally, and CDs being sent out as a priority.
In November, a new adventure sees the Doctor and Mrs Clarke confront the Daleks - who may be made of stained glass, but their motives are as opaque as ever:
In the Galactic Census, idyllic Strellin is recorded as a Grade Three planet – its inhabitants possessing neither advanced technology, nor knowledge of other worlds. Accordingly, Strellin is protected: landings by off-worlders are strictly prohibited. Unless, of course, those off-worlders are officials of the Galactic Census itself, come to investigate the origin of a mysterious sub-space signal – a signal no native of Strellin should be able to send...
Breaking all local by-laws, the time-travelling Doctor and his companion L/Wren Mrs Constance Clarke (AWOL) have only just landed on Strellin, too. But they and the Census officials aren't the only off-worlders to have come here. Inside a nearby monastery, the monks of the reclusive Brotherhood of the Black Petal are guarding a strange and terrible secret. Something might bring disaster not just to Strellin, but to every civilised world in the galaxy!
A trailer for Doctor Who - Order of the Daleks is now online, and can be also be heard below:
Guest stars on Order of the Daleks include Big Finish executive producer Nicholas Briggs, as well as John Savident: not only a veteran of TV's soap legend Coronation Street, but still fondly remembered for his brilliant appearances in Blake's 7 episodes Orbit and Trial.
And in December, Doctor Who - Absolute Power sees Colin Baker and Miranda Raison teamed up as the Sixth Doctor and Mrs Constance Clarke, arriving on Teymah where a civilisation ended: a process that might be at risk of starting again!
Two thousand years ago, all civilisation on the planet Teymah was wiped out in an AELE – an Anomalous Extinction Level Event. Now, the galactic entrepreneur Lyam Yce hopes, at last, to learn the reason why the ancient Teymahrians went extinct – by funding a huge archaeological dig.
While the Doctor probes a strange sphere found by Yce's diggers, his companion, former Bletchley Park cryptographer Constance Clarke, agrees to help translate symbols written in the lost ancient language of the Teymahrians. And soon, they'll learn that ancient Teymah's secrets were best left buried deep beneath its shifting sands...
Written and directed by Jamie Anderson, Absolute Power not only stars Colin Baker and Miranda Raison, but guest stars include Paul Reynolds - familiar to fans of British cult TV as wheeling-dealing Colin Matthews in the Steven Moffat-scripted Press Gang. The cover for this new Doctor Who - Main Range story is now online, designed by Simon Holub.
The main range of Doctor Who can be subscribed to on Download or CD (seeing downloads unlocked as soon as the stories are released) with either 6- or 12-story runs at bargain prices.
Subscribers also get their choice of a free Big Finish release, plus PDF script downloads as well as exclusive extras, Doctor Who Subscriber Short Trips and free postage in the UK.