For The Love Of StoriesBig Finish produce fantastic full-cast audio dramas for CD and download.
End the year with The Year of Martha Jones! 
16 December 2021
What better than a message of hope just before Christmas 2021? The Year of Martha Jones is released today from Big Finish Productions.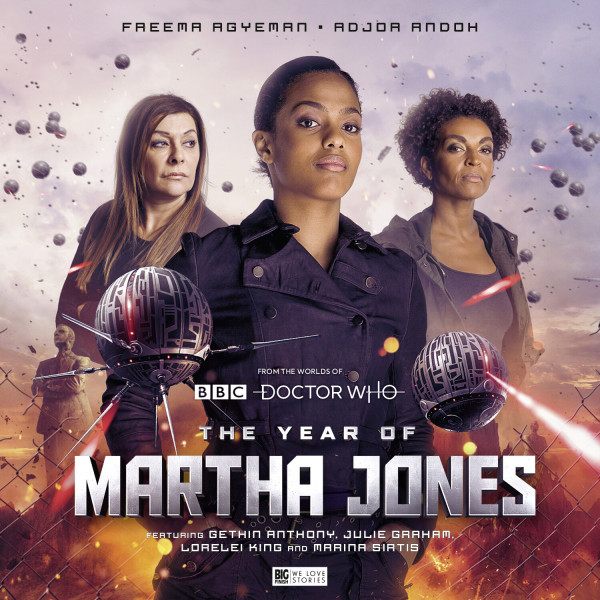 Martha Jones has spent a year travelling the Earth warning humanity about the Master and spreading hope with tales of her friend, the Doctor. But against her are the Master's agents, the worst of humanity who are trying to get one over on each other just to curry favour with Harold Saxon and fight their way up the food chain.
Freema Agyeman, returning to audio as Martha, leads a cast of stars including Adjoa Andoh (as Francine), Marina Sirtis (as Karen) and Gethin Anthony (as Mr Strand).
The Year of Martha Jones is available now as a collector's edition CD box set (at £19.99) or digital download (at £16.99), exclusively HERE.
The Master has won. He has stolen humanity's future and imprisoned his nemesis, ruling the Earth with an army of deadly Toclafane.  
But Martha Jones escaped, and now walks the Earth, telling stories of the Doctor. Above all else, humanity needs hope. And Martha will carry that hope across the world… 
These three new full-cast audio adventures are as follows:
The Last Diner by James Goss 
Martha arrives on the west coast of the US and finds an old friend waiting to make contact.  
A desperate group gathers for her stories. But when Francine arrives, escaped from the Valiant, she isn't so keen to hear about the Doctor… 
 Silver Medal by Tim Foley 
Martha journeys to a forest camp, hidden from Toclafane patrols. It's somewhere she's been before with the Doctor, more than a century ago – where the silver mines held a deadly secret.  
The resistance are ready to risk everything, but there'll be no prize for second place. 
Deceived by Matt Fitton
The Master's minions are competing to please him. And agents Beecham and Strand believe nothing would please him more than finding the Doctor's stray companion.  
As Martha and friends hide out in Vegas, the Toclafane arrive. How many levels of deception must be uncovered for Martha to reach the truth? 
Freema Agyeman said: "We really didn't know what Martha was going through psychologically in that year. We see her embark on it and we see the conclusion of it, and it always seemed like she was able to hold onto the grand plan. But it's really interesting to hear her as a normal person, trying to do extraordinary things – and maybe cracking at times – because she doesn't have the support network necessarily. But she does have incredible independence and strength."
Director Scott Handcock added: "As an actor and human being, Freema is one of the most positive, brilliant and dedicated people you could work with. We first met 15 years ago on Doctor Who when I was a runner working away behind-the-scenes and she was just beginning her journey as Martha on screen. We got to know each other better on The Infinite Quest animation and kept in touch, and it's great to see her go from strength to strength. It's been a joy to reconnect and work with her on these stories and we're all chuffed that she found the time to come back and recreate the good Dr Jones!"
The Year of Martha Jones is now available to own as a collector's edition CD (at £19.99) or digital download (at £16.99), exclusively HERE. 
All the above prices include the special pre-order discount and are subject to change after general release.
Big Finish is currently operating a digital-first release schedule. The mail-out of collector's edition CDs may be delayed due to factors beyond our control, but all purchases of this release unlock a digital copy that can be immediately downloaded or played on the Big Finish app from the release date.