We love StoriesBig Finish produce great full-cast audio drama for CD and download, featuring many popular television fantasy series.
8 October 2016
Big Finish and Paizo announce the launch of a new Audio Drama Series, Curse of the Crimson Throne!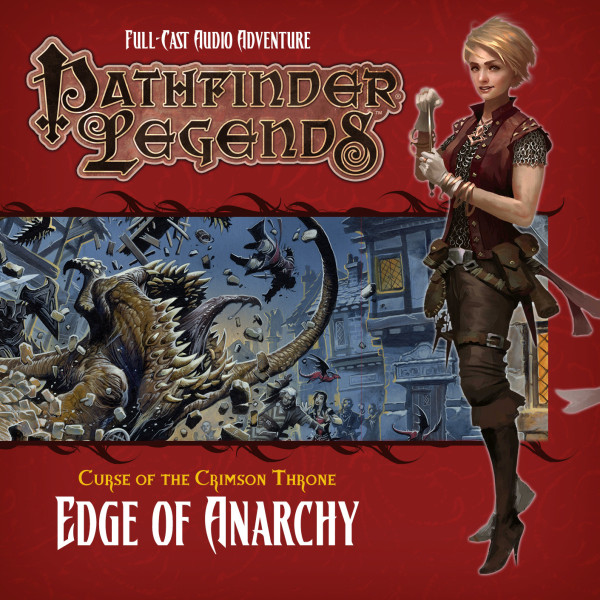 The iconic heroes of Pathfinder Legends: Rise of the Runelords and Pathfinder Legends: The Mummy's Mask embark on new audio adventures set amid the Varisian port city of Korvosa!
REDMOND, WA (October, 2016): In partnership with Paizo, Big Finish Productions is delighted to announce a third series of the hugely popular action audio drama, Pathfinder Legends. For 2017, the epic campaign The Curse of the Crimson Throne is the subject of six adventures, based on the popular Pathfinder Adventure Path campaign for the Pathfinder Roleplaying Game.
In January 2017, the intrepid Ezren, Harsk, Merisiel, and Valeros find their skills called upon in Varisian port city of Korvosa, where they are plunged into the depths of urban adventure in order to stop riots, combat a plague, root out organized crime, and rescue political prisoners, before escaping to the harsh badlands of the Storval Plateau, where only the friendship of the barbaric Shoanti and a weapon drawn from the heart of a gothic castle can give them the strength to return and depose the evil queen once and for all.
This new series of six two-hour audio adventures follows the story of the Curse of the Crimson Throne Adventure Path. Each instalment will be released monthly in both download and double CD formats, starting in January with Edge of Anarchy. Pre-orders and subscriptions are available from both paizo.com and from Big Finish Productions.
About Big Finish
For over eighteen years, Big Finish has been producing high-quality audio drama on CD. There are literally hundreds of productions to choose from, with new titles being released on a monthly basis. The majority of Big Finish's audio plays are based on popular TV series such as Doctor Who, Dark Shadows, Survivors, The Avengers and Blake's 7. Many of the original actors who starred in these classic shows have returned to recreate their characters. Releases are usually either full-cast audio dramas or dramatic readings featuring two cast members, all with explosive sound design and an original music score. Every story features your favourite characters in an all-new adventure. Big Finish offers hours of entertainment, excitement, and intrigue. You've never heard it so good!
About Paizo Inc.
Paizo Inc. is publisher of the award-winning Pathfinder Roleplaying Game, Pathfinder Adventure Card Game, Pathfinder Tales novels, as well as board games and gaming accessories. The Pathfinder world, in which players take on the role of brave adventurers fighting to survive in a world beset by magic and evil, is currently translated into eight languages, and has been licensed for comic book series, graphic novels, toys, and apparel, and is being developed into an MMORPG. Paizo.com is also a leading online hobby retail store, offering tens of thousands of products from a variety of publishers to customers all over the world.