For The Love Of StoriesBig Finish produce fantastic full-cast audio dramas for CD and download.
The Eighth Doctor's Lost Connections
6 December 2022
Paul McGann's TARDIS crew face the Time Lord Drax, vampires and the Weeping Angels in a brand-new box set of full-cast audio adventures, released today by Big Finish Productions.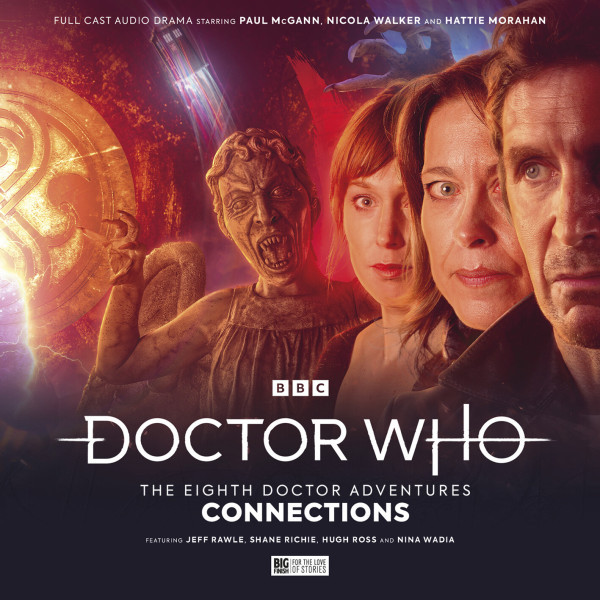 The Doctor (Paul McGann), Liv (Nicola Walker) and Helen (Hattie Morahan) are out in the universe, picking up missing pieces, and finding lost connections.
After a package entangles them with shifty Time Lord Drax, the TARDIS crew are haunted by past loves on a space station, before Helen encounters somebody she believed long gone...
Doctor Who – The Eighth Doctor Adventures: Connections is available to own for just £19.99 (collector's edition CD box set + download) or £16.99 (download only).
As previously announced, Shane Richie guest stars as the wheeler-dealer Time Lord Drax (first played on screen by Barry Jackson in the 1979 Doctor Who story, The Armageddon Factor), reuniting him with his former Eastenders co-star Nina Wadia OBE (voicing Mimi).
The three self-contained adventures are as follows:
Here Lies Drax by John Dorney (1 part)
The Doctor, Liv and Helen are surprised to get a letter delivered to the TARDIS from the Doctor's old school friend, Drax.
They're even more surprised when it's followed by a parcel also sent by the intergalactic con-man, asking them to keep its contents safe. Contents that seem to be a lot of worthless junk.
And their surprise gets even bigger when this parcel is itself followed by an invitation... to Drax's funeral.
And that's just where the surprises start.
The Love Vampires by James Kettle (1 part)
Regret can follow people everywhere – even out into deep space, in the shadow of a dying star.
When the Doctor Liv and Helen meet the terrified crew of a space station, all are haunted by faces from the past. But these lost loves are more than mere memories - and they want to feed...
Albie's Angels by Roy Gill (1 part)
When the Doctor and friends hunt down time anomalies in 2020s Soho, Helen steps into the past and meets the brother she thought she'd lost forever.
But there are Weeping Angels in London – and one of the stone assassins wants something from the Doctor and Liv...
Paul McGann said: "It's great to do stand-alone and short-form stories [after moving on from Stranded] and we were energised by the contrasting tones. It was fun to do!"
Nicola Walker added: "In Here Lies Drax, Shane Richie plays a very slippery character with great joy. What a performance! I was really impressed.
"The Love Vampires is rather brilliant because you throw vampires into a sci-fi environment that doesn't know any of the mythology behind them... but the Doctor does.
"I got to do some acting with the Weeping Angels in Albie's Angels which was very exciting. They are an incredible creation and such a frightening idea."
Hattie Morahan said: "Here Lies Drax was such fun to record with so many amazing characters and such a brilliant cast. And in The Love Vampires, there are lots of mysteries to untangle.
"Albie's Angels broke my heart – it's a real beautiful and sad journey to go on. This box set is all about connections."
Also bringing their vocal talents to the stellar cast are Jeff Rawle (as Captain Miles Rozann), Hugh Ross (as Stern), Barnaby Jago (as Albie Sinclair) and Jamie Zubairi (as Three).
Doctor Who – The Eighth Doctor Adventures: Connections is available to own for just £19.99 (collector's edition CD box set + download) or £16.99 (download only).
Big Finish listeners can save money and catch up on the previous 2022 Eighth Doctor box set, What Lies Inside, by purchasing it with Connections in a bundle from just £33.
All the above prices include the special pre-order discount and are subject to change after general release.
Please note that Big Finish is currently operating a digital-first release schedule. The mailout of collector's edition CDs will be delayed, but all purchases of this release unlock a digital copy that can be immediately downloaded or played on the Big Finish app from the release date.