We love StoriesBig Finish produce great full-cast audio drama for CD and download, featuring many popular television fantasy series.
24 January 2016
Catch Up on all this week's news and reveals from the worlds of Big Finish!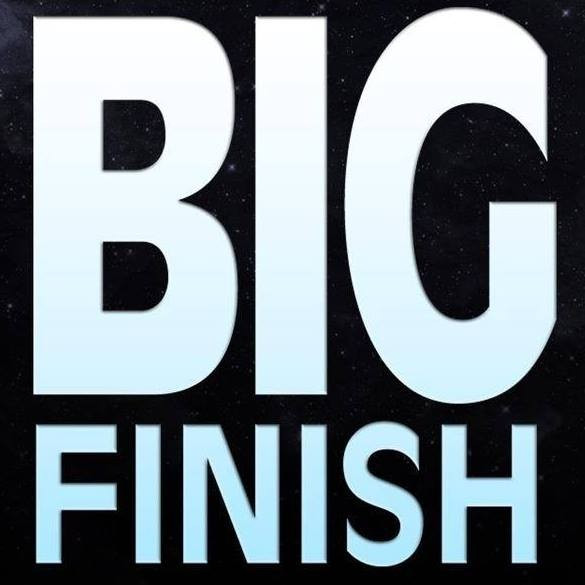 This week the Big Finish team have been recovering from the amazing party that was Big Finish Day 8! We had a fantastic time meeting everybody and sharing our secrets – and we hope you did too. If you missed out on the event, you can enjoy a photo gallery of the day on our Facebook page and hear a podcast straight from the event – with a behind-the-scenes video coming soon!
But even the entertainment event of the year (so far) isn't an excuse to have a rest – as two brilliant new releases have proved! Freshly released this week is The Avengers – The Lost Episodes: Volume 5, four new adaptations of missing stories from the classic spy series, starring Anthony Howell, Julian Wadham and Lucy Briggs-Owen.
5.1 Nightmare by Dan Starkey, from a storyline by Terence Feely
When one of his patients, an experimental scientist, goes missing, Dr Keel ends up impersonating him. But not all doctors are on the side of the angels.
5.2 Girl on the Trapeze by Dennis Spooner, adapted by Rae Leaver
The circus has come to town - but after Keel witnesses an apparent suicide, it becomes clear that the clowns are concealing something sinister behind the scenes.
5.3 Crescent Moon by Phil Mulryne, from a storyline by Geoffrey Bellman and John Whitney
On a Caribbean Island, Steed finds himself caught up in a curious case of kidnapping, where if he wants to save a missing girl, he's got to find out what's really going on... and quickly.
5.4 Diamond Cut Diamond by John Dorney, from a storyline by Max Marquis
A smuggling ring is leaving a trail of bodies in its wake. Steed goes undercover as an air steward to investigate, but can he confront the culprit before it's his head on the block?
You can order this brilliant new box-set today for just £25 on CD and £20 to download - with four previous volumes also available. And remember, when you choose to buy this release on CD directly from Big Finish, you will also unlock instant access to a digital copy for download.
Steed and Keel aren't the only investigators on the case – as Captain Jack Harkness (John Barrowman) bursts back into action in Torchwood: Uncanny Valley – the next release from the triumphant return of Torchwood.
What has made billionaire Neil Redmond emerge from his long seclusion? Captain Jack knows the answer, and is prepared to go to any lengths to prove it.
A couple of years ago, Neil Redmond was in a terrible accident. His recovery has been long and slow, but now he's back and looking better than ever. Much better than ever.
Dark forces have been behind Neil's transformation. Dark forces that Jack has been hunting for a long time. But Captain Jack's never been able to resist the darkness.
Written by David Llewellyn, directed by Neil Gardner and starring John Barrowman, Steven Cree and Emma Reeves, you can buy and download this new story today – or pick up the entire series so far as part of a money-saving subscription.
While these heroes are busy saving the world, we've managed to take a trip through time to reveal some more details from our future productions! Frazer Hines will return to the TARDIS in June 2016 for Doctor Who – The Companion Chronicles: The Second Doctor Volume 1. Recording has now been completed on the set's fourth story Doctor Who: The Edge by Rob Nisbet, which sees the Doctor and Zoe trapped in a laboratory far in the future. Can Jamie defeat the villainous Curtis (Robert Whitelock) using everything he's learned on his travels?
To celebrate the new announcement, we've also been pleased to release a brand new trailer for the release – riffing on the classic TV trailer for The Web of Fear. You can listen today via the Sound Cloud player below:
We've also shed some light on the final adventures of Dorian Gray (Alexander Vlahos) with a look ahead to The Confessions of Dorian Gray: Series 5. The first story of the new series One Must Not Look at Mirrors by Guy Adams sees Dorian reunite with his old friend Oscar Wilde (Steffan Rhodri) – who hasn't been seen since the series debut episode The Confessions of Dorian Gray: This World Our Hell.
Other guests appearing in the story include Jo Joyner, Lewis Reeves and Ben Crystal – with plenty more to be announced in the run up to release. You can pre-order the climatic release in our beloved original series today, with the entire series so far still available to order.
Note: The Confessions of Dorian Gray contains adult material and is not suitable for younger listeners.
Finally, we've been lucky enough to reveal new covers for some upcoming Doctor Who releases; including Doctor Who: The Trouble With Drax, Doctor Who: Nightshade and Doctor Who: And You Will Obey Me. You can check them out in all their glory on their range pages.
That's all for this week – but join us soon for our final January releases, plus more news and trailers from the worlds of Big Finish. Don't forget - you can still pick up our Apocalypse Now offers for the rest of this weekend, with The Night of the Triffids and selected titles from Survivors available to enjoy as part of a special bundle - but hurry offers must end noon Monday January 25th.
Plus, this week is you last chance to enjoy January's Listeners title - Doctor Who: The Renaissance Man. Starring Tom Baker, Louise Jameson and Ian McNeice, this title has been chosen to celebrate the recent release of Doctor Who: The Churchill Years Volume 1 and is available to download for just £2.99 until January 31st.