We love StoriesBig Finish produce great full-cast audio drama for CD and download, featuring many popular television fantasy series.
28 February 2016
Catch up on all of the latest news and releases from the worlds of Big Finish!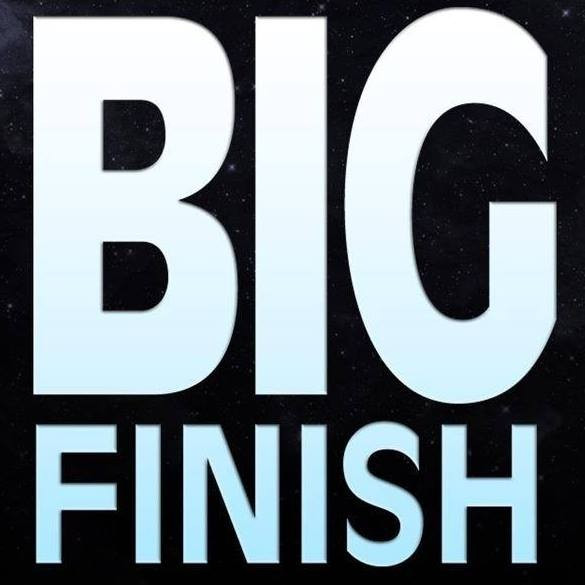 This week has been another great one for Doctor Who listeners, with the release of our second box-set starring John Hurt! Doctor Who – The War Doctor 2: Infernal Devices is available to buy and download now and sees the War Doctor off on a desperate mission to prevent the use of a devastating super weapon...
Written by John Dorney, Phil Mulryne and Matt Fitton and starring John Hurt, Jacqueline Pearce, David Warner, Jamie Newall, Zoë Tapper, Robert Hands, Oliver Dimsdale, Laura Harding, Barnaby Kay, Jaye Griffiths, Tim Bentinck, Tracy Wiles and Nicholas Briggs, Doctor Who – The War Doctor 2: Infernal Devices is available to download now – and is still available at its pre-order price of £20 on both CD and to download until April 30th 2016.
You can order this release separately, or as part of the Time War Saga bundle; which contains all four box sets from the War Doctor series, along with the five-disc prequel Doctor Who - The Eighth Doctor: The Time War starring Paul McGann. And remember, when you choose to buy this release on CD directly from Big Finish, you will also unlock instant access to a digital copy for download.
Doctor Who – The War Doctor 2: Infernal Devices is available exclusively from Big Finish today. It will be released through other retailers from April 30th 2016.
This blockbuster release was followed by another one of our half-hour Short Trip adventures. Doctor Who: Prime Winner by Nigel Fairs is performed by Nichola Bryant and sees the Sixth Doctor and Peri investigate a 1930s casino.
You can download this new release today for just £2.99; or subscribe to all twelve stories in the 2016 run of Doctor Who – Monthly Short Trips at a considerable saving, with a new story appearing in your account every month as soon as they are released. Future stories include the return of Sheridan Smith in Doctor Who: The Curse of the Fugue, Peter Purves in Doctor Who: This Sporting Life and Anneke Wills in Doctor Who: Lost and Found. The 2017 run is also available to pre-order and subscribe to now.
As with all great time-travellers, we've also enjoyed a little glimpse into the Doctor's future adventures in the form of some brilliant new covers! Anthony Lamb's exciting designs for Doctor Who – The Fourth Doctor Adventures: The Pursuit of History and Casualties of Time offer a tantalising glance at the two part Series 5 finale – where the Doctor (Tom Baker) faces a rematch with Cuthbert (David Warner), Mr Dorrick (Toby Hadoke) and the Black Guardian (David Troughton). You can pre-order both titles individually, or at a reduced price as part of a Fourth Doctor Adventures Subscription.
Next we have Simon Holub's striking cover Doctor Who – The Companion Chronicles: The Second Doctor Volume 1. The cover portrays the stars of the four new adventures – Frazer Hines, Anneke Wills, Deborah Watling and Wendy Padbury – as well as two mysterious characters from stories in the set. Elliot Chapman will also reprise the role of Ben from Doctor Who - The Early Adventures, continuing the legacy of the late, great Michael Craze.
We've also been able to announce that the second tale in the new set will be The Story of Extinction, written by range producer Ian Atkins. The set will be released in June, exclusively from the Big Finish website and available from other retailers from July 31st. You can pre-order your copy today for only £20 for the CD, and £15 for the Download version.
The future may be fun, but our next two reveals have been blasts from the past. Coming in April, The Avengers – Steed and Mrs Peel: The Comic Strip Adaptations Volume 1 recreates four classic storylines from Diana magazine, starring Julian Wadham and Olivia Poulet as John Steed and Mrs Emma Peel!
Featuring an all-star cast, including Julian Wadham, Olivia Poulet, Jacqueline Pearce, Sheila Reid, Graham Seed and Phillip Pope, The Avengers – Steed and Mrs Peel: The Comic Strip Adaptations Volume 1 is available to pre-order today from the Big Finish website.
Volume 2 of the Comic Strip Adaptations will be released in November, as will a graphic novel collection of the original comic strips. All three Steed and Mrs Peel releases can be pre-ordered together as part of a special bundle.
More Sixties spy fun will be found in The Prisoner: Volume 2, scheduled to be released in January 2017. This week we were pleased to bring listeners the first in a series of monthly updates from Big Finish Executive Producer Nicholas Briggs, chronicling the development and production of the new series. Each set of notes will be added to The Prisoner: Volume 2 behind-the-scenes page. You can also ask Nick any questions about the series by emailing us at enquiries@bigfinish.com – and Nick may be able to answer them in an upcoming edition of Nick's Notes.
If you haven't yet listened to The Prisoner, why not check out a free extract from The Prisoner: Volume 1. Taken from opening episode Departure and Arrival, this half-hour preview sees Number Six (Mark Elstob) awaken in the mysterious Village. Download here, or listen via the SoundCloud player below.
You can order the limited-edition boxed set of The Prisoner: Volume 1 from the Big Finish website and enjoy hours of extra content, including exclusive interviews, a complete music score and PDF script downloads.
Another most anticipated box-set is Blake's 7: The Liberator Chronicles Volume 12 - the climatic final chapter in our long running range of sets based on Terry Nation's sci-fi classic. You can now hear a new trailer for this April release - featuring returning stars Paul Darrow, Jan Chappell, Steven Pacey and Micheal Keating. Listen using the player below, and pre-order your copy today.
We've ended the week with a very special set of Doctor Who offers celebrating the wonderful Maggie Stables. Part of the Big Finish family since our first year in operation, Maggie became one of our fondest contributors. Loved by listeners, her cast mates and the production team alike, Maggie forged a legend as the Sixth Doctor's (Colin Baker) companion Dr. Evelyn Smythe across eleven years of audio adventures.
Maggie sadly passed away peacefully in September of 2014; but this weekend we wanted to take the opportunity to remember her brilliance with a range of offers on all of her Big Finish appearances. You can find full details here; but hurry, these offers must end noon Monday February 29th (UK time).
This weekend is also your last chance to pick up some of our recent releases at low introductory prices. Doctor Who – The War Doctor 1: Only the Monstrous and Vienna: Series 3 will be increase to their full price on March 1st, so order today to enjoy savings on both series.
That's all for this week – but stay tuned for next week's release of Doctor Who: Doom Coalition 2 on Thursday March 3rd!
This action-packed new box-set sees the return of insane Time Lord the Eleven (Mark Bonnar) after his defeat in Doctor Who: Doom Coalition 1; and he's desperate for revenge! Now the Eighth Doctor (Paul McGann), Liv Chenka (Nicola Walker) and Helen Sinclair (Hattie Morahan) must race across the universe to foil his plans and along the way encounter Voord, gangsters, a city in the Time Vortex; and River Song (Alex Kingston)!
Listen to the trailer below and pre-order your copy for just £20 – exclusively from the Big Finish website!