For The Love Of StoriesBig Finish produce fantastic full-cast audio dramas for CD and download.
Three Benny novels come to audio!
4 December 2020
For the first time, Big Finish listeners will be able to enjoy three out-of-print Bernice Summerfield novels in audio format. Originally published between 2004 and 2007, these long-awaited audiobooks have been years in the making.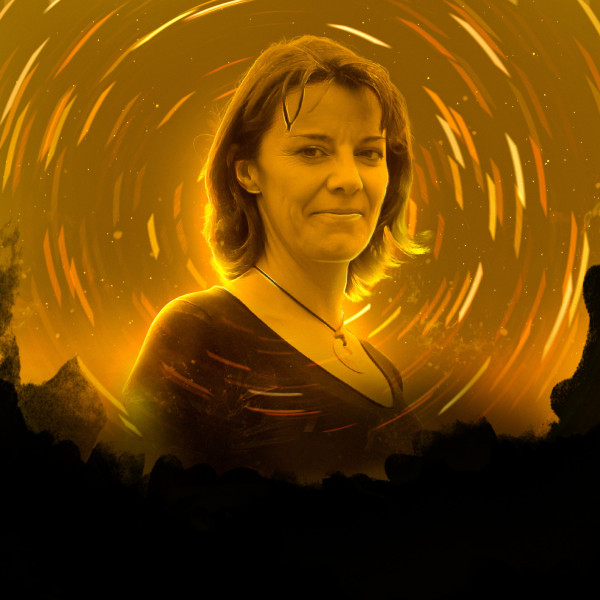 Three Benny audiobooks are due for release in 2021 and 2022, with the Big Finish First Lady, Lisa Bowerman at the helm:
The Big Hunt by Lance Parkin (due January 2021)
Professor Bernice Summerfield is enjoying a break. A break from work, a break from the rebuilding of the Braxiatel Collection and a break from Jason, Adrian and even her beloved Peter.
She feels she's entitled to a bit of downtime. So, why won't anyone leave her alone? Before long, she's being sent off after an old space artefact only to crashland on a planet apparently devoid of life. Devoid of life, that is, except for the robotic animals, big game hunters and ruthless corporate administrators of the type she's learned to know and mistrust.
Benny realises that to survive she must join in on what might be the most dangerous 'game' she's ever played...
The Tree of Life by Mark Michalowski (due February 2021)
What's the most famous archaeologist in the sector to do when she receives an uninformative message from a woman she hardly remembers on a planet she's never heard of? Go and investigate, of course!
But the unending, unyielding jungle on Tollip's World doesn't make it easy. Nor does the paranoia around the research team's mysterious discoveries there. Before long, Benny's under attack from humans, long-dead aliens and unpleasant fungal infections.
What happened on Tollip's World 8,000 years ago? What's the origin of the electrical discharges beneath the surface of the planet? Why is there a greenhouse in the middle of a jungle? And what are the Trees of Life?
Could the secrets of Tollip's World mean the extinction of humanity?
The Two Jasons by Dave Stone (due January 2022)
'Oh bloody hell,' she snapped. 'Listen: me no wantee good time jig-jig all same, okay?'
When Bernice Summerfield first met Jason Kane, she failed to spot his many fine qualities and assets. Over the course of many subsequent adventures, including marriage and divorce, she continued not to see them…

'You're not Jason,' she said. 'Who the hell are you?'

When Bernice Summerfield first met Jason Kane 2, he was disguised as a critic of the work of Jason Kane. Benny saw through his false moustache and literary pretensions and had him and his other clones expelled into space, there to make their own fortunes. One Jason Kane was, she felt, rather more than enough.

Now something is astir in the universe, a plot that threatens Benny and all she holds dear. If she stands any chance at all, she needs all the Jason Kanes she can get…
Bernice Summerfield: The Big Hunt, The Tree of Life and The Two Jasons will be available to own on digital download for just £9.99 individually or together as a bundle at the discounted price of £25.