For The Love Of StoriesBig Finish produce fantastic full-cast audio dramas for CD and download.
10 August 2023
Big Finish Productions today releases Murray Melvin's final recording for the Torchwood range of monthly adventures, a brand-new audio drama entitled Sigil.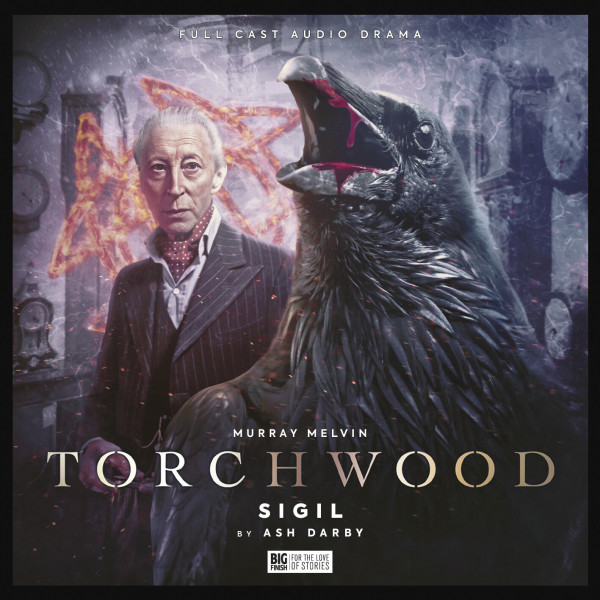 The late, great actor, Murray Melvin passed away on 14 April 2023. Known to many for his affecting performances in such movies as A Taste of Honey, Barry Lyndon and Alfie, he also captivated audiences in recent years with his portrayal of the spectral Bilis Manger in Torchwood.
Murray returned to the part on audio in 2017 and recorded his final performance with Big Finish a little over a year ago.
Today, on what would have been his 91st birthday, the story is now available to hear for the first time. He is joined in this poignant Torchwood audio drama by Olivier Award-nominated Gabrielle Brooks (as Sam) and Star Trek: Prodigy's Angus Imrie (as Emil).
Big Finish listeners can now purchase Torchwood: Sigil as a collector's edition single-disc CD (+ download for just £10.99) or as a digital download only (for just £8.99), exclusively here.
Sam has been haunted for years by the Sigil. She's drawn the pattern since she was a child, she has a tattoo of it, she sells prints of it. Then one day, she sees it on a statue in the window of Bilis Manger's shop.
It turns out the Sigil is very old indeed. Why has it been haunting her? Why is it on a Celtic statue of a bird? Where did it come from? Has a terrible entity been released from its ancient slumber?
Please note: Torchwood contains adult material and may not be suitable for younger listeners.
Producer James Goss said: "We didn't realise that this was going to be Murray's last recording with us – it was just before his 90th birthday so we had a small party in the studio with flowers and cake, and I hope we gave him a wonderful send off. He took great delight on finding the studio's sharpest, wickedest knife to advance on the cake with."
Further tributes to Murray Melvin from people who worked with him at Big Finish can be found at https://www.bigfinish.com/news/v/murray-melvin-1932-2023
Praise for Murray Melvin at Big Finish:
"The combination of Murray Melvin's performance and the assured, wrong-footing story progression keeps you both on edge and unable – or unwilling – to stop the recording and get your breath. Torchwood: Curios never does quite what you think it will – or even what you think it should - but delivers a clammy, creepy tale of things that go bump in the dark that is enjoyable and surprising by turns."
Warped Factor

"Bilis Manger is, in no way, someone you'd want to meet. But Murray Melvin and the rest of the cast and crew of Torchwood: Dead Plates ensure spending time with him is tremendous, pitch black, fun."
Sci-Fi Bulletin

"Whilst Bilis remained something of an enigma on television, Big Finish seems to be taking him in the direction of a trickster. It goes without saying that Murray Melvin is exquisite at playing both sides of the role."
Blogtor Who

"Bilis Manger is such a fascinating character. Charming yet sinister, we're never quite sure what his true agenda is. Not until it's too late, at least. He really is a fantastic character, one that's always performed brilliantly by Murray Melvin."
Fansided
Sigil is part of a six-release Torchwood bundle which Big Finish listeners can purchase for just £60 (collector's edition CD + download) or £50 (download only).
A 12-release Torchwood bundle is also available for just £110 (collector's edition CD + download) or £96 (download only).
The Torchwood range of monthly adventures continues in September 2023. Further details to come.
Big Finish is currently operating a digital-first release schedule. The mail-out of collector's edition CDs may be delayed due to factors beyond our control, but all purchases of this release unlock a digital copy that can be immediately downloaded or played on the Big Finish app from the release date.