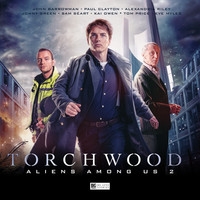 Starring John Barrowman, Kai Owen, Tom Price, Eve Myles
This title was released in October 2017. It will be exclusively available to buy from the BF website until December 31st 2017, and on general sa...
Out now!
Other recent releases

Starring Paul Darrow, Jan Chappell, Michael Keating, Steven Pacey, Jacqueline Pearce and Yasmin Bannerman
Out now!

Starring Anneke Wills, Frazer Hines, Elliot Chapman
Out now!