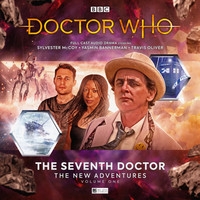 Starring Sylvester McCoy, Yasmin Bannerman, Travis Oliver
Four brand new adventures for the Seventh Doctor and his companions Roz Forrester and Chris Cwej.
1. The Trial of a Time Machine by Andy Lan...
Out now!
Other recent releases

Starring Michelle Ryan, Warren Brown
Out now!

Starring David Bradley, Claudia Grant, Jemma Powell, Jamie Glover
Out now!