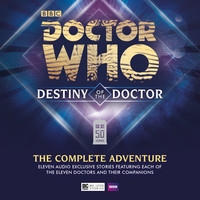 Starring Carole Ann Ford, Frazer Hines, Richard Franklin, Lalla Ward, Janet Fielding, Nicola Bryant, Sophie Aldred, India Fisher, Nicholas Briggs, Catherine Tate and Jenna Coleman
This title was released in September 2016 and is an exclusive Big Finish release until the end of March 2017.
Originally created to mark the...
Out now!
Other recent releases

Starring Duncan Wisbey
Out now!

Starring Frazer Hines, Anneke Wills, Deborah Watling, Wendy Padbury, Elliot Chapman
Out now!