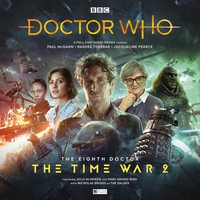 Starring Paul McGann, Rahkee Thakrar
The Eighth Doctor battles for survival in the Time War.
2.1 The Lords of Terror by Jonathan Morris
When the Doctor takes Bliss to her ho...
Out now!
Other recent releases

Starring Paul McGann, Nicola Walker, Hattie Morahan
Out now!

Starring Yee Jee Tso
Out now!