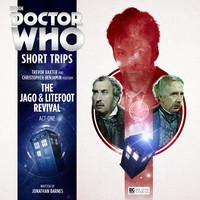 Starring Christopher Benjamin, Trevor Baxter
"I've tried my upmost best in this review to not disclose anything that could be considered a major spoiler, but if you're looking for a story t...
Out now!
Other recent releases

Starring David Tennant, Catherine Tate
Out now!

Starring Carole Ann Ford, Frazer Hines, Richard Franklin, Lalla Ward, Janet Fielding, Nicola Bryant, Sophie Aldred, India Fisher, Nicholas Briggs, Catherine Tate and Jenna Coleman
Out now!