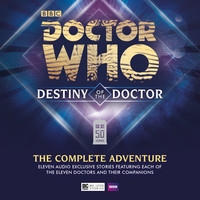 Starring Carole Ann Ford, Frazer Hines, Richard Franklin, Lalla Ward, Janet Fielding, Nicola Bryant, Sophie Aldred, India Fisher, Nicholas Briggs, Catherine Tate and Jenna Coleman
Originally created to mark the 50th anniversary of Doctor Who, Big Finish Productions produced a special range of audiobook titles, each focusin...
Out now!
Other recent releases
Starring Ian McNeice, Danny Horn, Holly Earl
Out now!

Starring Jenna Coleman, Michael Cochrane and Nicholas Briggs
Out now!