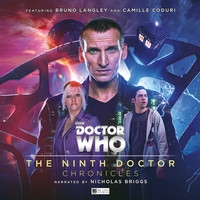 Starring Nicholas Briggs, Camille Coduri, Bruno Langley
'... it's another great performance from Briggs as the Ninth Doctor. It's teatime in, er, 2005 again… welcome back Doctor Nine! This has been an...
Out now!
Other recent releases

Starring Carole Ann Ford, Frazer Hines, Richard Franklin, Lalla Ward, Janet Fielding, Nicola Bryant, Sophie Aldred, India Fisher, Nicholas Briggs, Catherine Tate and Jenna Coleman
Out now!
Starring Ian McNeice, Danny Horn, Holly Earl
Out now!