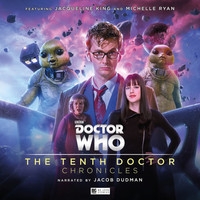 Starring Jacob Dudman
"The answer is a definitive "yes". Jacob Dudman's rendition of the Tenth Doctor's voice is more than simply uncanny. It's a voice that sounds co...
Out now!
Other recent releases

Starring Adjoa Andoh, Yasmin Bannerman and Anna Hope
Out now!

Starring Louise Jameson, Lalla Ward
Out now!