3.1X. The Avengers: It's a Wild Wild Wild Wild West (excerpt)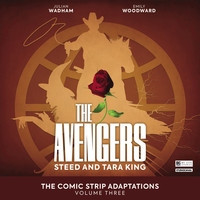 Released January
Synopsis
This excerpt from The Avengers: Comic Strip Adaptations Volume 3 is available free to Big Finish Newsletter subscribers in February 2019.
Based on the adventures of Steed and Tara King in the TV Comic strips:
1. It's a Wild, Wild, Wild, Wild West by John Dorney
Steed is quick on the draw, Tara gallops away.
After reports suggest a series of robberies in the New Forest were committed by cowboys, Mother sends the Avengers into action.
The trail leads to the Western style ranch known as The Lazy J. But will it be high noon for Steed and King?
Written By: John Dorney
Directed By: Ken Bentley
Cast
Julian Wadham (John Steed), Emily Woodward (Tara King), Christopher Benjamin (Mother), Hywel Morgan (Cody/ Jim), Daniel Easton (Billy/ Sam), Karina Fernandez (Jessie). Other parts played by members of the cast.
Producer David Richardson
Script Editors John Dorney & Ken Bentley
Executive Producers Jason Haigh-Ellery and Nicholas Briggs