For The Love Of StoriesBig Finish produce fantastic full-cast audio dramas for CD and download.
A Divinely Decadent Audio Experience!
20 September 2022
Willkommen to 1930s Berlin where "life is a cabaret" in the brand-new box set, The New Adventures of Bernice Summerfield: Blood and Steel, released today by Big Finish Productions.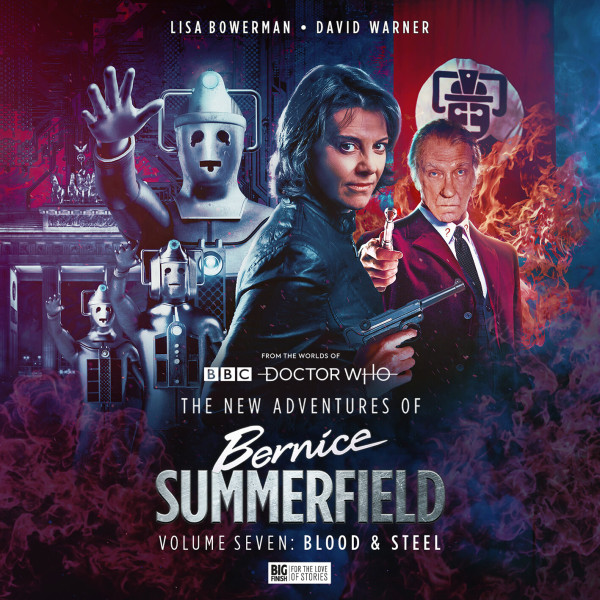 In four full–cast audio dramas, Bernice Summerfield (Lisa Bowerman) and the Unbound Doctor (the late, great David Warner) follow an energy signal to a hedonistic paradise.
Their investigations lead them to rural Germany, an archaeological mystery and a smoky cabaret bar run by the non–conforming Compère (Andrew Pepper) in the heart of Berlin. As the city rebels and awaits its fearful fate, the Cybermen arrive, targeting hyperintelligent beings...
Doctor Who —The New Adventures of Bernice Summerfield: Blood and Steel is now available to own as a collector's edition 4-disc CD box set (+ download for just £24.99) or digital download (for just £19.99), exclusively here.
1930s Berlin – the party before the end of the world. A city that laughs at the gathering storm. The location of a mysterious alien signal. Bernice Summerfield and the Doctor investigate. What are the Cybermen doing in Berlin? Who are the Ancient Vril? And what horrors lurk beneath the city's most infamous nightclub?
The four Teutonic tales in this box set are as follows:
Willkommen by James Goss
Why do the Cybermen wish to save the people of Berlin?
Wulf by Aaron Lamont
A young man returns home - will he save his village or will it save him?
Übermensch by Rochana Patel
Why does the Doctor want Bernice to join a German archaeological expedition?
Auf Wiedersehen by Victoria Saxton
Can Bernice Summerfield stop an alien invasion after it has happened?
Director Scott Handcock said: "The Cybermen want the crème de la crème. Weirdly, for emotionless Cybermen, they're very in tune to how humans work and how their emotions drive them. It's quite sinister how they're able to exploit that.
"It was exciting getting scripts set in 1930s Berlin. The environment means you can't tell a light and fluffy story. There's always that resonance under it that's pulling you back and forcing that darker tone onto everything that happens.
"David Warner's Doctor in these scripts is quite manipulative. I think it's the darkest we've seen him but throughout this box set he's also tremendously vulnerable with some beautiful speeches. It's a really interesting path for his Doctor to go down."
"We've really come to care about this Doctor/companion – or Bernice/companion dynamic. The lovely thing about them is that the Doctor's plans to save the day always rely on Bernice rescuing him."
The New Adventures of Bernice Summerfield —Blood and Steel is now available to own for just £24.99 (collector's edition CD box set + download) or £19.99 (download only) exclusively at the Big Finish website.
All the above prices include the special pre-order discount and are subject to change after general release.
Big Finish is currently operating a digital-first release schedule. The mail-outof collector's edition CDs may be delayed due to factors beyond our control, but all purchases of this release unlock a digital copy that can be immediately downloaded or played on the Big Finish app from the release date.