We love StoriesBig Finish produce great full-cast audio drama for CD and download, featuring many popular television fantasy series.
A new companion for the Sixth Doctor – and a boyfriend for Peri
30 November 2019
A new traveller joins the TARDIS team, as companion Peri finds herself a boyfriend in the forthcoming Sixth Doctor special, Blood on Santa's Claw and Other Stories.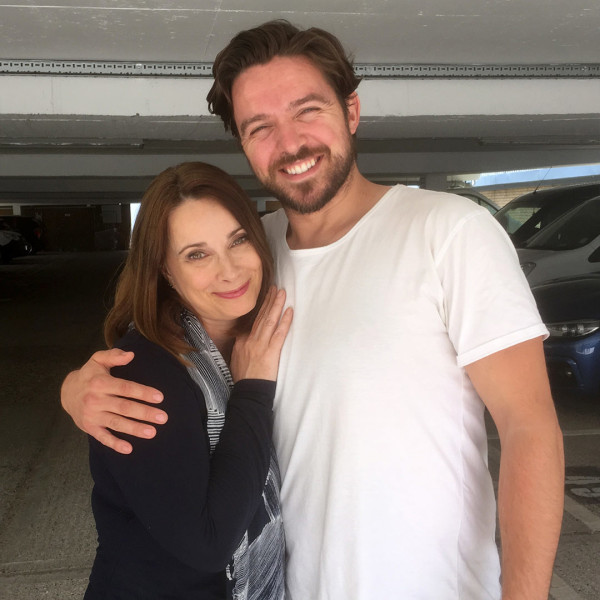 Starring Colin Baker and Nicola Bryant, Blood on Santa's Claw and Other Stories is a four-part Doctor Who audio drama due to be released in time for Christmas. It is available now for pre-order as a collector's edition CD box set or on download from £12.99.
Blood on Santa's Claw introduces a new companion for the Sixth Doctor, a famous pop star whom Peri meets after travelling back in time to attend a studio recording of Top of the Pops.
Joe Carnaby is the lead singer of the 1980s' hottest new synth band, Arcadia Rising. He is played by actor Luke Allen-Gale who said, of becoming Peri's boyfriend: "They are very much enamoured with each other in that young love kind of way. It's exciting and new and adventurous and there's lots of laughter. Joe wants to have a good time and enjoy himself."
Actor Nicola Bryant added: "I am very excited that Peri is finally going to get the lovely boyfriend that she deserves. It's nice that she has someone she feels responsible for. I also like the fact she takes on more of the Doctor's role in these stories and teaches Joe how to be a companion.
"The fact that it is music that brings them together makes it all the more wonderful. Peri's not had much luck with husbands in the past (Davey Silverman in The Piscon Paradox and Ycarnos in Widow's Assassin), so it's very much third time lucky for her. Fingers crossed!"
Nev Fountain, one of the four authors of these festive fables, explained how the brief for the new companion came about: "I was simply asked to make it Christmassy! Oh yes, and I was told that Peri's boyfriend was now travelling with them. Is this the first time there's been implied hanky-panky in the TARDIS during the time of a 'classic' Doctor?
"The idea of introducing him by just throwing him into a box set of short stories was an interesting one and I think it worked. We meet the Doctor, Peri and new TARDIS traveller Joe Carnaby as they journey through the 59th century, an annoyingly silly time in Earth's history. I look forward to writing for the Doctor, Peri and Joe in their next series of adventures!"
Producer and director, John Ainsworth added: "I was delighted when I was told that this year's Christmas release would be featuring the Sixth Doctor, and therefore fell to me to produce. It's hard to come up with a new spin on the Christmas theme and tell exciting Doctor Who stories at the same time, but I think our four stories in this anthology tick all the boxes - tinsel, carols, Dickens, reindeer, and even Santa himself. But this is still Doctor Who, and there's plenty to keep the Doctor, Peri and her new beau on their toes. The stories actually get quite dark in places, and Peri in particular has to live through some quite traumatic events."
You can now pre-order Doctor Who: Blood on Santa's Claw and Other Stories as a collector's edition CD or download at the Big Finish website from £12.99. Get it into your Christmas stocking!