For The Love Of StoriesBig Finish produce fantastic full-cast audio dramas for CD and download.
A New Dawn rises for Survivors
25 November 2021
It's the end of the world as we know it! Big Finish Productions full-cast audio drama, Survivors,  returns for another hurrah in the first of two new box sets, entitled New Dawn, released today.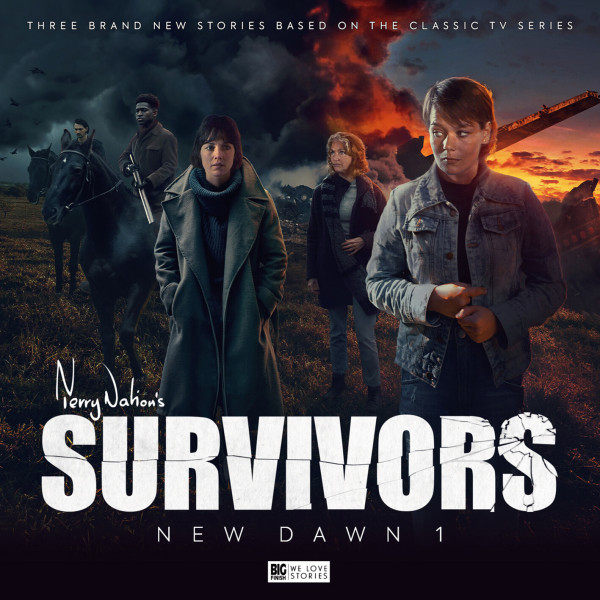 Based on Terry Nation's BBC TV series which ran from 1975-77, Survivors is a post-apocalyptic drama concerning the plight of a group of people who have survived a worldwide plague.
Survivors: New Dawn 1 picks up a couple of decades after the previous Big Finish series with original TV series regulars Carolyn Seymour (as Abby Grant) and Lucy Fleming (as Jenny Richards) in a renewed fight for survival. This new box sets also features Louise Jameson (as Jackie Burchall), Belinda Lang (as Celia Tate) and Clive Hayward (as John Bedwell).
Survivors: New Dawn 1 is now available to own as a collector's edition CD box set at £19.99 or £16.99 as a download exclusively from this website.
The world has ended. The Death crossed continents, sparing only a fraction of the global population. The survivors are now trying to pick up the pieces and rebuild society to create a new future.
It's been twenty years since the Death and fifteen years since Abby Grant and Jenny Richards went their separate ways. Britain has a fledgling government based in Cambridge, and some transport and communications infrastructure has been re-established. International links are being forged, and people are looking to the future with hope. But this new order is more fragile than it appears. The worst of human nature has survived along with the best.
Tethered by Andrew Smith
Abby Grant is heading home on a tragic mission when she meets an apparent Good Samaritan, who may be nothing of the sort. And in Cambridge, the seat of the New Federal Government, the Prime Minister tasks Law Minister Jenny Richards with a secret assignment. Both women soon find themselves in deadly peril.
My Generation by Katharine Armitage
Abby is on the run, and Jenny risks her future to protect her. An old friend, Jackie Burchall, is also eager to help. But when Abby falls in with an activist group called The Veil, it jeopardises everyone.
Behind You by Roland Moore
Abby remembers Leonard Cross as the awful children's entertainer who came to one of her son's birthday parties before the Death. She doesn't expect to find herself relying on him as she recovers from injury and tragedy. And he may be even more awful than she knows...

Carolyn Seymour said: "The challenges facing the survivors in the original TV series were almost insuperable but somehow, every time, there was a little glimmer of hope that came through that good will out and bad will be defeated.
"Trying to wrench myself back into that part of my life was tough. I'm much less hot-headed than I was in those days. It was hard getting back there but these scripts have been very sensitively written. It's been a great time."
Lucy Fleming added: "I think Abby and Jenny are quite different characters. Abby is quite driven but Jenny has a softer side. But they've evolved and come together more. They've been getting their heads down and working hard and getting these communities together.
"Maybe when we were younger, when we were doing the television series, we were not so sensitive as we are now. Also, the world has changed."
Survivors: New Dawn 1 is now available to own as a collector's edition CD box set at £19.99 or £16.99 as a download here.
Accompanying the box set is a brand new audiobook, Survivors: Ghosts and Demons, written by Ethan Milsea and read by Carolyn Seymour, which is available as a download only at £9.99.
Survivors: New Dawn 2 is due for release in February 2022 and is now available to pre-order at £19.99 as a collector's edition CD box set or £16.99 as a download HERE.
Big Finish listeners can save more by pre-ordering both Survivors: New Dawn box sets together as a bundle on CD at £38 and on digital download at £33.
All the above prices include the special pre-order discount and are subject to change after general release.
◉ For a limited time, selected Survivors box sets (on collector's edition CD box set or download) are available for up to 70% off. (Offers end 23:59, UK time, 28 November 2021).
Please note that Survivors contains adult material and may not be suitable for younger listeners.
Big Finish is currently operating a digital-first release schedule. The mail-out of collector's edition CDs may be delayed due to factors beyond our control, but all purchases of this release unlock a digital copy that can be immediately downloaded or played on the Big Finish app from the release date.