For The Love Of StoriesBig Finish produce fantastic full-cast audio dramas for CD and download.
An Undreamed-of Sixth Doctor Box Set!
9 August 2022
The Sixth Doctor, Mel, and Hebe visit the home of the world's oldest football club, Henderson's Relish, and Arctic Monkeys in a brand-new box set, released today by Big Finish Productions.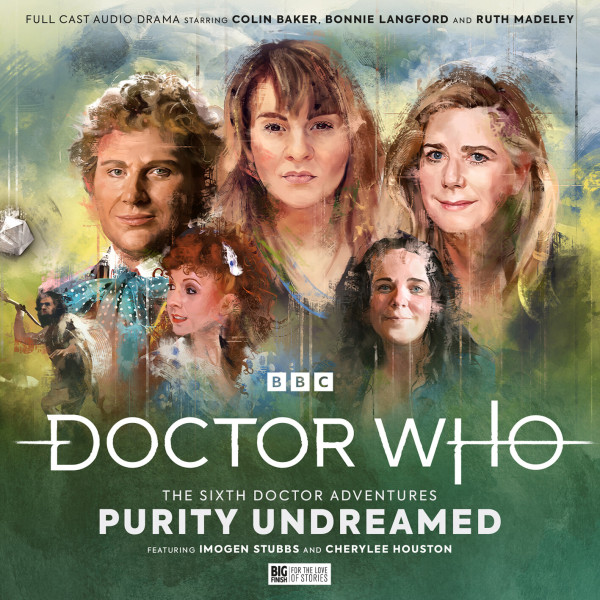 Colin Baker, Bonnie Langford, and BAFTA-nominated Ruth Madeley star in Doctor Who – The Sixth Doctor Adventures: Purity Undreamed. When the TARDIS lands in Sheffield, the scene is set for three new full-cast audio adventures featuring Imogen Stubbs as the brilliant and sarcastic Professor Patricia McBride. Before long, the time travellers encounter dangerously extreme well-being and anti-ageing treatments before an ominous new villain threatens to tear their group apart!
Doctor Who – The Sixth Doctor Adventures: Purity Undreamed is now available to own as a collector's edition 3-disc CD box set (for just £19.99) or digital download (for just £16.99), exclusively here.
The glittering ensemble cast also includes Coronation Street star and activist Cherylee Houston MBE (as Elise), comedian Toby Hadoke (as Ron), and Paul Herzberg (as Mr Betterment).
The Sixth Doctor heads back to Earth with Mel and Hebe in tow, little dreaming what lies ahead. Accompanied by their new friend, Professor Patricia McBride, alien threats abound, dangers lurk, and the cost of meddling with time is more than anyone is prepared to pay.
The three exciting stories in the box set are as follows:
The Mindless Ones by Paul Magrs
The Doctor, Mel and Hebe visit Sheffield at the behest of Hebe's best friend, Elise, but Elise has undergone a disturbing transformation. The mysterious Mindless Facility claims to be able to change you for the better – but who decides what that is? Joining forces with anthropologist Professor Patricia McBride, can the Doctor and his friends save Britain from an insidious alien threat?
Reverse Engineering by Jonathan Morris
When Patricia is invited to a secretive Swedish clinic by an old colleague, she tips off the Doctor, Mel and Hebe, who go undercover to investigate. Charismatic geneticist Killian Holm offers to restore youth to his wealthy patients, but the truth of his work is far more radical – and far more dangerous! As an ancient horror reforms beneath the clinic, the Doctor must race to save humanity from an unspeakable temporal disaster.
Chronomancer by Robert Valentine
The Doctor, Mel and Hebe take Patricia to see 26th century Sheffield, but their trip is cut unexpectedly short. Caught in the crossfire between time-criminal, Khavûl, and dashing 'chronomancer', Tannus Vallon, the TARDIS crash-lands back in the present. With a dimensionally transcendental artefact lost somewhere in the city, the Doctor and his friends must find it before Khavûl can… but with resentments and prejudices finally unmasked, is an even bigger threat about to engulf the world?
Ruth Madeley said: "I really like how we've become this proper little team. I love the relationship between Mel and Hebe and how blunt Hebe is with the Doctor. I think she's quite excited about having Patricia along for the journey as long as it doesn't interrupt her friendship with Mel."
Colin Baker added: "The Doctor quite likes arrogance when it fits in with his way of life. The arrogance of Patricia rather fascinates him. Given her speciality in anthropology, what other sphere of study would be more interested in the idea of time travel, than Patricia's?"
Imogen Stubbs said: "Patricia and the Doctor are like sparring partners. They have a sort of almost flirty-intellectual dynamic. I don't think she's had many great friends before like Hebe and isn't used to being with people who treat her so nicely."
Bonnie Langford added: "I think Patricia likes the fact she's quite grounded by the TARDIS crew and it's almost a relief that she doesn't have to be so pompous all of the time. It's quite disarming. She can let her hair down and have a bit of fun."
Doctor Who – The Sixth Doctor Adventures: Purity Undreamed is now available to own for just £19.99 (collector's edition CD box set + download) or £16.99 (download only) from the Big Finish website.
Big Finish listeners can save money by purchasing this box set as part of the 14-release Classic Doctors Bundle for £274 (collector's edition CD + download) or £237 (download only). A 10-release bundle is also available from £165.
Alternatively, listeners can purchase The Sixth Doctor bundle, containing both 2022 releases in this range, for £38 (collector's edition CD + download) or just £33 (download only).
All the above prices include the special pre-order discount and are subject to change after general release.
Please note that Big Finish is currently operating a digital-first release schedule. The mail-out of collector's edition CDs may be delayed due to factors beyond our control, but all purchases of this release unlock a digital copy that can be immediately downloaded or played on the Big Finish app from the release date.