We love StoriesBig Finish produce great full-cast audio drama for CD and download, featuring many popular television fantasy series.
ASDA stores stocking Doctor Who The Creeping Death on vinyl
23 May 2019
A full comprehensive list of the ASDA stores selling Doctor Who - The Creeping Death on vinyl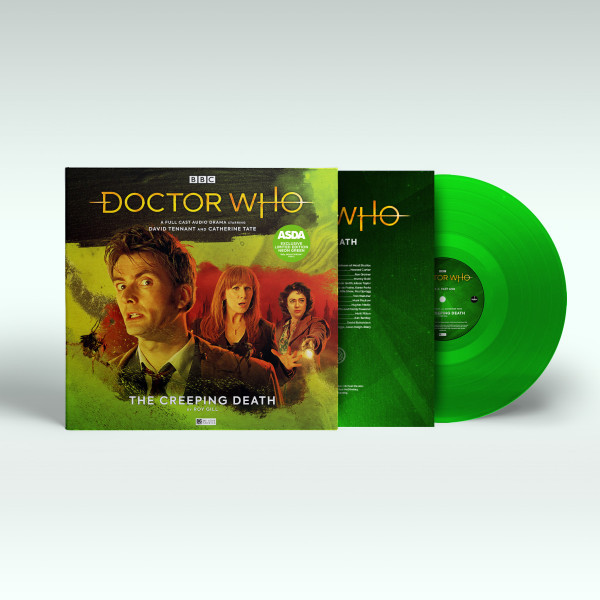 Don't forget to post a photo on social media if you track down a copy. Use the hashtag #CreepingDeath.
Please note: this special vinyl edition is stocked in selected stores only, subject to availability.
Read more about this exclusive vinyl release here.
| | |
| --- | --- |
| Region | Store Name |
| ANGLIA | EASTGATE |
| ANGLIA | NORWICH |
| ANGLIA | IPSWICH |
| ANGLIA | COLCHESTER |
| BIRMINGHAM | TAMWORTH |
| BIRMINGHAM | ASDA LIVING WALSALL |
| BIRMINGHAM | ST MATTHEWS |
| BIRMINGHAM | SHREWSBURY |
| BIRMINGHAM | ASDA LIVING WREKIN PARK |
| BIRMINGHAM | GREAT BRIDGE |
| BIRMINGHAM | QUESLET (NEW) |
| BIRMINGHAM | DONNINGTON WOOD |
| BIRMINGHAM | ASDA LIVING STAFFORD QUEE |
| BIRMINGHAM | WOLVERHAMPTON |
| BIRMINGHAM | MINWORTH |
| BRISTOL | ASDA LIVING EASTGATE |
| BRISTOL | SWINDON HAYDON |
| BRISTOL | LONGWELL GREEN |
| BRISTOL | GLOUCESTER |
| BRISTOL | BEDMINSTER |
| BRISTOL | PATCHWAY |
| BRISTOL | SWINDON |
| CENTRAL MIDLANDS | ASDA LIVING STRATFORD UPO |
| CENTRAL MIDLANDS | ASDA LIVING COVENTRY BINL |
| CENTRAL MIDLANDS | MILTON KEYNES (NEW) |
| CENTRAL SCOTLAND | CUMBERNAULD (NEW) |
| CENTRAL SCOTLAND | COATBRIDGE |
| CENTRAL SCOTLAND | LIVINGSTON (NEW) |
| CENTRAL SCOTLAND | ALLOA |
| CENTRAL SCOTLAND | NEWMAINS |
| CENTRAL SCOTLAND | EDINBURGH |
| CENTRAL SCOTLAND | ST.LEONARDS |
| CENTRAL SCOTLAND | FALKIRK |
| CENTRAL SCOTLAND | GALASHIELS |
| CENTRAL SCOTLAND | MOTHERWELL |
| EAST MIDLANDS | ASDA LIVING VALENTINE LIN |
| EAST MIDLANDS | CORBY |
| EAST MIDLANDS | WISBECH |
| EAST MIDLANDS | ASDA LIVING PETERBOROUGH |
| EAST MIDLANDS | THURMASTON |
| EAST MIDLANDS | BOSTON (NEW) |
| EAST YORKSHIRE | HESSLE |
| EAST YORKSHIRE | KINGSWOOD |
| EAST YORKSHIRE | SCUNTHORPE |
| EAST YORKSHIRE | BILTON-HULL |
| EAST YORKSHIRE | ASDA LIVING ROTHERHAM |
| EAST YORKSHIRE | ASDA LIVING WAKEFIELD TRI |
| EAST YORKSHIRE | WAKEFIELD DURKAR |
| EAST YORKSHIRE | GRIMSBY |
| EAST YORKSHIRE | YORK (NEW) |
| EAST YORKSHIRE | ASDA LIVING HULL |
| EAST YORKSHIRE | DONCASTER |
| KENT & SUSSEX | CANTERBURY (NEW) |
| KENT & SUSSEX | FOLKESTONE |
| KENT & SUSSEX | ASDA LIVING MAIDSTONE |
| KENT & SUSSEX | BRIGHTON |
| KENT & SUSSEX | CRAWLEY |
| KENT & SUSSEX | BROADSTAIRS |
| KENT & SUSSEX | FERRING |
| KENT & SUSSEX | EASTBOURNE |
| KENT & SUSSEX | SITTINGBOURNE |
| LANCASHIRE | BOLTON |
| LANCASHIRE | BLACKPOOL |
| LANCASHIRE | BURNDEN PARK |
| LANCASHIRE | SOUTHPORT |
| LANCASHIRE | PRESTON FULWOOD |
| LANCASHIRE | HORWICH |
| LANCASHIRE | CLAYTON GREEN |
| LANCASHIRE | RAWTENSTALL (NEW) |
| MANCHESTER | ASHTON |
| MANCHESTER | TRAFFORD PARK |
| MANCHESTER | HYDE |
| MANCHESTER | EASTLANDS |
| MANCHESTER | LONGSIGHT |
| MIDLANDS | CREWE |
| MIDLANDS | TUNSTALL |
| MIDLANDS | MANSFIELD |
| MIDLANDS | SHEFFIELD (NEW) |
| MIDLANDS | WEST BRIDGFORD |
| NORTH LONDON & ESSEX | DAGENHAM |
| NORTH LONDON & ESSEX | ASDA LIVING THURROCK |
| NORTH LONDON & ESSEX | ASDA LIVING TOTTENHAM HAL |
| NORTH LONDON & ESSEX | SOUTH GATE CIRCUS |
| NORTH LONDON & ESSEX | STEVENAGE |
| NORTH LONDON & ESSEX | BECKTON |
| NORTH LONDON & ESSEX | HATFIELD (NEW) |
| NORTH LONDON & ESSEX | HARLOW |
| NORTH SCOTLAND | BRIDGE OF DEE (NEW) |
| NORTH SCOTLAND | ABERDEEN BEACH |
| NORTH SCOTLAND | KIRKCALDY |
| NORTH SCOTLAND | MILTON OF CRAIGIE |
| NORTH SCOTLAND | ELGIN |
| NORTH SCOTLAND | PERTH |
| NORTH WALES & LIVERPOOL | QUEENSFERRY |
| NORTH WALES & LIVERPOOL | ASDA LIVING ISLAND GREEN |
| NORTH WALES & LIVERPOOL | ASDA LIVING BROUGHTON |
| NORTH WALES & LIVERPOOL | SEFTON |
| NORTH WALES & LIVERPOOL | AINTREE |
| NORTH WALES & LIVERPOOL | WALTON |
| NORTH WALES & LIVERPOOL | LLANDUDNO (NEW) |
| NORTH WALES & LIVERPOOL | ELLESMERE PORT (NEW) |
| NORTHERN IRELAND | BANGOR |
| NORTHERN IRELAND | OMAGH |
| NORTHERN IRELAND | ASDA LIVING BELFAST |
| NORTHERN IRELAND | STRABANE (NEW) |
| SOUTH BIRMINGHAM & M5 | DUDLEY |
| SOUTH BIRMINGHAM & M5 | CAPEHILL |
| SOUTH COAST | PORTSMOUTH |
| SOUTH COAST | FAREHAM |
| SOUTH COAST | HAVANT |
| SOUTH COAST | EASTLEIGH |
| SOUTH COAST | POOLE |
| SOUTH EAST LONDON | WALLINGTON |
| SOUTH EAST LONDON | ASDA LIVING DARTFORD |
| SOUTH EAST LONDON | ISLE OF DOGS |
| SOUTH EAST LONDON | ROEHAMPTON |
| SOUTH EAST LONDON | CLAPHAM JUNCTION |
| SOUTH WALES | CAERPHILLY (NEW) |
| SOUTH WALES | MERTHYR TYDFIL (NEW) |
| SOUTH WALES | CWMBRAN (NEW) |
| SOUTH WALES | BRIDGEND |
| SOUTH WALES | LECKWITH ROAD |
| SOUTH WALES | ASDA LIVING CASNEWYDD |
| SOUTH WALES | ASDA LIVING TROSTRE PARC |
| SOUTH WALES | ASDA LIVING LLANTRISANT |
| SOUTH WALES | CARDIFF |
| SOUTH WALES | PENTWYN |
| SOUTH WALES | LLANELLI |
| SOUTH WALES | NEWPORT |
| SOUTH WEST | ST.AUSTELL |
| SOUTH WEST | PLYMOUTH |
| SOUTH WEST | FALMOUTH |
| SOUTH WEST | TAUNTON |
| TEESIDE & SOUTH LAKES | BARROW |
| TEESIDE & SOUTH LAKES | PETERLEE (NEW) |
| TEESIDE & SOUTH LAKES | ASDA LIVING DURHAM |
| TEESIDE & SOUTH LAKES | HARTLEPOOL (NEW) |
| TYNESIDE & NORTH LAKES | GATESHEAD (NEW) |
| TYNESIDE & NORTH LAKES | ASDA LIVING GATESHEAD |
| TYNESIDE & NORTH LAKES | SUNDERLAND |
| TYNESIDE & NORTH LAKES | BOLDON |
| TYNESIDE & NORTH LAKES | CARLISLE |
| TYNESIDE & NORTH LAKES | BENTON |
| TYNESIDE & NORTH LAKES | WASHINGTON |
| TYNESIDE & NORTH LAKES | BLYTH |
| TYNESIDE & NORTH LAKES | ASHINGTON LINTONVILLE TER |
| WEST LANCASHIRE | LEIGH |
| WEST LANCASHIRE | PILSWORTH |
| WEST LANCASHIRE | WIGAN (NEW) |
| WEST LANCASHIRE | WARRINGTON |
| WEST LANCASHIRE | HUNTS CROSS |
| WEST LANCASHIRE | WESTBROOK |
| WEST LANCASHIRE | RUNCORN |
| WEST LANCASHIRE | BIRCHWOOD |
| WEST LANCASHIRE | HUYTON (NEW) |
| WEST LONDON | SLOUGH |
| WEST LONDON | LOWER EARLEY |
| WEST LONDON | PARK ROYAL NEW |
| WEST LONDON | HIGH WYCOMBE |
| WEST LONDON | COLINDALE |
| WEST LONDON | WATFORD |
| WEST LONDON | WEMBLEY |
| WEST LONDON | FELTHAM |
| WEST SCOTLAND | DUMBARTON |
| WEST SCOTLAND | ROBROYSTON |
| WEST SCOTLAND | GOVAN |
| WEST SCOTLAND | CLYDEBANK (NEW) |
| WEST SCOTLAND | TORYGLEN |
| WEST SCOTLAND | HAMILTON |
| WEST SCOTLAND | IRVINE |
| WEST SCOTLAND | PARKHEAD |
| WEST SCOTLAND | AYR (NEW) |
| WEST SCOTLAND | BEARSDEN |
| WEST YORKSHIRE | MORLEY |
| WEST YORKSHIRE | ASDA LIVING LEEDS CROWN |
| WEST YORKSHIRE | ASDA LIVING FORSTER SQUAR |
| WEST YORKSHIRE | ASDA LIVING GUISELEY NEW |
| WEST YORKSHIRE | KILLINGBECK |
| WEST YORKSHIRE | PUDSEY |
| WEST YORKSHIRE | HALIFAX |